Everwood's Debra Mooney Will Get Her Gavel Out In Scandel's Season 2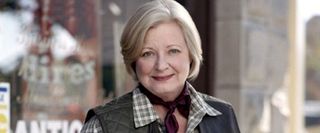 After nabbing guest spots for the last several years, veteran actress Debra Mooney is headed to ABC's Scandal, where she has landed a recurring role with an important title. The former Everwood actress will play a Supreme Court Justice in Season Two of Shonda Rhimes' politically-oriented show.
Mooney has been busy over the last few years hopping from guest starring role to guest starring role on shows like The Mentalist and Weeds. A couple of years ago, Mooney even showed up on another Rhimes drama, Grey's Anatomy. Because of this, TV Line is speculating Mooney may have already been on the famous TV show creator's radar which may have helped her to earn the recurring role.
Another reason Mooney may have been able to secure the gig might be due to her performance in Boston Legal a few years ago. The actress capably played a judge on the hit legal drama over the course of several episodes, and while that judge did not have as much prominence as the Supreme Court Justice she will be playing on Scandal, it definitely proved she can have the air of authority and regal stance a judge needs to be good at his or her job.
ABC's Thursday night drama follows Olivia Pope, the head of a crisis management team in D.C., as she figures out mysteries and fixes problems for a variety of prominent individuals. There's no word on whether Mooney's judge will be in trouble or simply serve some intriguing purpose on the show, but I can almost guarantee it will be melodramatic and pretty fun to watch.
Season 2 of Scandal premieres Thursday, September 27 at 10 p.m. ET.
Your Daily Blend of Entertainment News