Everyone Else Gets More Sarah Jane, What About US?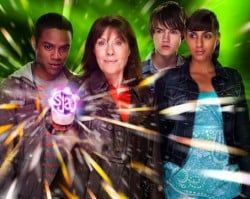 Super-fans of Doctor Who in the United States have two more reasons to be frustrated with our American broadcast channels. The Who spin-off, The Sarah Jane Adventures has been commissioned for a fourth and fifth series in the UK, as reported on Sci Fi Pulse. Unfortunately, while BBC America is doing quite well now with Torchwood and Doctor Who, neither they nor any other network has seen fit to air any of the Sarah Jane episodes beyond the first season (which Syfy aired a few years back).
Understandably, it is a kid's show, but series three featured a genuine appearance by David Tennant as the Doctor, and it is a part of the overall Who continuity. Plus, it's not that bad. Long-time fans of the good Doctor remember Elisabeth Sladen's Sarah Jane from her time as a companion. Surely they'd have an interest in seeing what she's up to now, and all the fun she's been having.
The series features classic Who villains, Sarah Jane's "sonic lipstick," and even K-9 shows up from time to time. If someone can explain to me why no one in the US thinks this show is worth picking up for air, I'm listening? If nothing else, BBC America should be able to find sometime to throw it on. Go for Saturday mornings if you're so sure it's a kiddie show. The Who fans will follow it there, and maybe you will find some kids who fall in love with the Doctor through this portal.
To whet the appetites of fans in the UK, Canada, South Africa, Hong Kong and Australia -- where the series does are -- future episodes will include the team's first trip to an alien world, as well as a trip back in time. While nothing's been said about it, there might also be a surprise appearance by the new Doctor Who, Matt Smith, or perhaps the good Captain Jack Harkness will drop in for a visit when he inevitably returns to Earth.
Your Daily Blend of Entertainment News
Your Daily Blend of Entertainment News
Thank you for signing up to CinemaBlend. You will receive a verification email shortly.
There was a problem. Please refresh the page and try again.