FX Comedy Wilfred Gets Three New Featurettes For Its June Premiere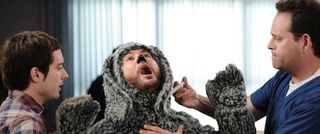 Wilfred, adapted from an Australian show of the same name (with the same actor, Jason Gann, playing the titular dog-man... man-dog... whatever), is a promising new comedy coming to FX this summer. The premise of the show is simple enough, our suicidal lead character Ryan (played by Elijah Wood) develops a relationship with his beautiful neighbor's dog... only he doesn't see a dog, he sees a man dressed up in a dog suit, who also happens to speak with an Aussie accent. See, simple enough.
FX has created a great destination for their own brand of off-beat shows, whether dramas or comedies (with great series like Sons of Anarchy, Justified and Archer) and it seems like they might have another winner on the leash with Wilfred. I remember catching the first promo for the show and laughing quite a lot at Gann's (who will also function as executive producer on the American adapt) delivery as the human sized version of the dog that only Wood's Ryan (and us) can see.
Take a look a these three featurettes to see if this is your brand of chow (puns!).
Wilfred premieres on June 23, 2011 on FX at 10 p.m. ET.