First Tease For Fringe Season 4, Where Is Peter Bishop?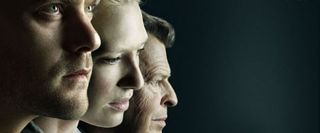 Despite being the continual underdog -- or maybe because of it -- Fringe keeps on producing some of the most interesting episodes of television that you can find on any network. It first survived the move to the Friday death-spot and then was again skipped over for Emmy nominations, but it doesn't matter because, for once, the TV gods were good and we're getting another season...and here's the first tease.
Before getting to the brief teaser trailer for Season 4, there are a few things about the Fox science fiction series that warrant mention. I can't believe that, once again, the show received a big doughnut when the Emmy nominations were announced last week. How John Noble doesn't get an annual nomination (since he should win the thing) is beyond me, especially for this last season where we see him play not only our lovably shattered Walter Bishop but also the strong, stoic Walternate. Same for Anna Torv this year, whose portrayal of Olivia and Faux-Livia (not to mention her Leonard Nimoy impression) also deserved some love.
But enough complaining. At least we're getting Season Four, and with the way that the previous year ended (in the upliftingly named finale "The Day We Died"), well, I can barely stand waiting. Below you'll find the teaser for the new year, which packs a lot into its 10-second running time (including flashes of a Peter-Olivia kiss, Walter with a young Peter, and a gaggle of Observers loitering by the Statue of Liberty). Oh, I've also including the "Finding Season 4" video from a few months back because, well, why not? In it the cast members give some of their theories on what we may see next season.
Fringe -- "?" Teaser One
Fringe -- Finding Season 4
Fringe Season 4 returns to Fox on Friday, September 23rd at 10 p.m. ET.
Your Daily Blend of Entertainment News
Thank you for signing up to CinemaBlend. You will receive a verification email shortly.
There was a problem. Please refresh the page and try again.