FlashForward: 2009 Fall TV Preview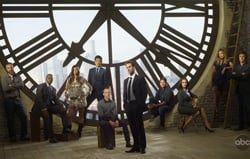 Among the new series set to premiere on ABC this year is the thriller-mystery-drama FlashForward. From the sound of the series description and the promo we have to share with you, this show could be one of the more exciting new series this year.
What happens when everyone on the planet blacks out at the same time? I'm thinking a little bit of mayhem.
Below is the series description as provided by ABC. Further down you'll find the promo video and some screenshots from the pilot:
FlashForward premieres Thursday, September 24 at 8:00 p.m., ET on ABC.
CLICK HERE to view the full 2009 fall TV premiere schedule.
Image 1 of 23
Image 2 of 23
Image 3 of 23
Image 4 of 23
Image 5 of 23
Image 6 of 23
Image 7 of 23
Image 8 of 23
Image 9 of 23
Image 10 of 23
Image 11 of 23
Image 12 of 23
Image 13 of 23
Image 14 of 23
Image 15 of 23
Image 16 of 23
Image 17 of 23
Image 18 of 23
Image 19 of 23
Image 20 of 23
Image 21 of 23
Image 22 of 23
Image 23 of 23