Get Ready For Lily To Drop The F-Bomb On Modern Family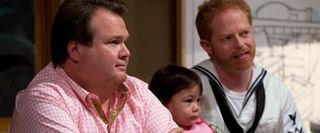 Modern Family's big switch-up this season was to replace the anonymous twin toddlers playing baby Lily with one little girl, capable of speaking dialogue and getting involved in the story the way the younger Lily never really could. And while the new Lily has played a role in some of the shorelines so far this season, memorably when Cam and Mitchell were worried she wouldn't take well to having a new sibling, she's about to get a much bigger challenge next week. After three seasons of being practically non-verbal on the show, baby Lily is about to learn some swear words.
One swear word in particular, actually, and one you're not allowed to say on television. According to EW, next week's episode goes by the title "Little Bo Bleep," and follows Cam and Mitchell's horrified reactions when Lily picks up the f-word. They're especially worried she'll say it at an upcoming wedding they're attending, since kids at weddings are generally expected to be flower girls or ringbearers, not saying one of the seven words you can't say on television. Since Modern Family operates in the mockumentary style, they can easily beep the little girl's swear words-- but it still might be a little surprising to see that kind of profanity coming out of the mouth of a child as sheltered as Lily Tucker-Pritchett. And apparently the showrunners had to talk their network into letting it happen. Here's how Levitan described their decision to go for the F-bomb:
You can see all the profane action go down next Wednesday, when Modern Family airs in its regular timeslot of 9 p.m. on ABC.
Staff Writer at CinemaBlend