Gilles Marini Thinks Luc Is The One For Sarah On Brothers And Sisters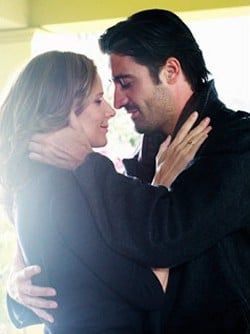 I don't usually get into those soapy prime-time dramas, but something about Brothers & Sisters hooked me. And something about Gilles Marini's turn as Sarah's French amore really connected with me as well. I thought Luc's free-spirited artistry was a wonderful counterpart to Sarah's incredibly uptight personality, and apparently I was right.
As fans of the show know, Marini returned to the series recently, and is scheduled to appear in the rest of this season. Even better, he's in talks to join the show as a cast regular next season, which would be great for him as he agrees that Luc is the one for Sarah, according to a recent talk he had with Zap2It. It would also help balance the departure of Rob Lowe, and subsequent reduction of Callista Flockhart's role.
Marini also revealed that we'll be getting a wedding soon in an upcoming episode, which I can only imagine is Justin and Rebecca's do-over. As far as I can tell, they never did finish the ceremony, considering Kitty collapsed on the beach. I don't remember there being one subsequently, though it could have happened off-screen. Of course it could be as simple as a green-card wedding between Luc and Sarah.
If that happens, they'd better hope they can work out a deal to keep him with the show next season,
Your Daily Blend of Entertainment News
Your Daily Blend of Entertainment News
Thank you for signing up to CinemaBlend. You will receive a verification email shortly.
There was a problem. Please refresh the page and try again.