Gilmore Girl Gets Green Light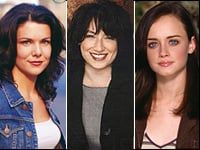 'Gilmore Girls' creator Amy Sherman-Palladino has just gotten the okay from the Fox network for a new comedy pilot for a half hour sitcom tentatively titled 'The Return of Jezebel James.'
Characterized as being somewhat of an anti-'Gilmore,' 'Jezebel' revolves around two estranged sisters who reunite after many years following an agreement to carry each other's baby. Despite the strangeness of such a pact between two siblings who hardly knew each other growing up due to their age difference, mayhem and hilarity are sure to follow. Unlike the near mystically close relationship shared between Rory and Lorelai on 'Gilmore,' the two sibs in 'Jezebel' won't exactly be skipping to their Lou on cloud nine together.
Says Palladino according to TV.com, "They never forged any relationship at home, and now they're forced into a situation where they're not only negotiating over the carrying of the baby but also over who they are." I could tell them right now who they are—freakin' weird, man. I mean, swapping babies, come on, how un-lady like.
Lately, Palladino has gotten some free time on her hands, as both her and her husband Dan left 'Gilmore' after the last season due to a contract dispute with the WB (now CW). Previously, Palladino has written and produced for such shows as 'Roseanne,' 'Veronica's Closet,' and 'Over the Top.'
Your Daily Blend of Entertainment News
Thank you for signing up to CinemaBlend. You will receive a verification email shortly.
There was a problem. Please refresh the page and try again.