Glee's Grant Gustin Joins Annabeth Gish In Lifetime Movie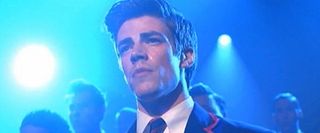 It looks like we'll be seeing more of Grant Gustin, who's been recurring as Sebastian on Glee. His role on Glee may well become a regular one next season, and Grant Gustin has now been tapped for the starring role in a Lifetime movie called A Mother's Nightmare alongside Annabeth Gish.
The Hollywood Reporter says Gustin has been cast in the leading role as Chris Stewart for the Lifetime movie about a popular 16-year-old who finds himself depressed when his parents break up and his cheerleader girlfriend ditches him. Enter Vanessa, played by 90210's Jessica Lowndes, who worms her way into the vulnerable teen's affections and then accuses him of assault when he tries to cool things with her. Sounds like a pretty typical Lifetime movie plot line, complete with melodramatic title.
Annabeth Gish has been cast as Chris' mother for the Lifetime movie, which is set to begin filming up in British Columbia next week – talk about cutting it close on casting your star. Gustin, who plays the flirtatious bad boy Sebastian on Glee seems to be on his way – his credits prior to Glee are few, with the only recent one being an appearance on CSI: Miami. That seems likely to change, especially if he does step into a regular role on Glee. Word is there is an offer for a regular role, and it seems unlikely that Gustin will turn it down. We'll probably be seeing a lot more of this guy in the future.
Your Daily Blend of Entertainment News
Thank you for signing up to CinemaBlend. You will receive a verification email shortly.
There was a problem. Please refresh the page and try again.