Glee Watch: Season 3, Episode 6 - Mash-Off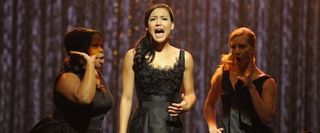 PO-TA-TOES boil'em, mash'em, stick'em in a stew! In last night's episode, "Mash-Off," some Glee characters were left feeling like they had just been thrown in a pot by Samwise only to be spit back out again by Gollum. Let's see who was left reeling from bullying, rumor-mongering, and gaslighting.
Mash-Off
That Adele, is so hot right now (said in Mugatu's voice), and Glee hit it out of the park with their mash-up of "Rumor Has It," and "Someone Like You." So far I think it is my favorite song for Season 3. In fact, I think I'd like a side of Adele mash-up with every Glee episode, please.
Hot For Teacher
Who didn't see that one coming: Puck spilling his guts to Shelby about Quinn's nefarious gaslighting plans to get Beth back? Meanwhile Shelby so far hasn't caved to Puck's advances, but it looks like her resistance may be crumbing. And I'm concerned with the previews which show Puck telling Quinn he has to tell her something. If Quinn finds out about the potentially inappropriate relationship of Puck/Shelby, she may have the ammo to get Beth back after all.
Santana Gets Served
After relentlessly taunting Finn, Santana finally gets hers. No, not at the hands of "Old Blue" ("A Christmas Story" shout out), but at the doughy hands of Finn. Finn calmly hits Santana's nuclear button: her love for Brittany. In the hallway (maybe not the best place to do this), Finn tells her everyone knows Santana loves Brittany, and it's time she should just come out of the closet. Maybe once she's out she won't be so vile to everyone. Oh snap!
I have to admit, I didn't feel bad for Santana, even later on when Sue, Schuester and Burt revealed the mudslinging campaign tape accusing Sue of putting a lesbian cheerleader in charge of the Cheerios. I guess my lack of empathy stems from Santana being such a raging bitch. And it's not like Santana is being bullied either. Finn and everyone said they'll support her. If I had to bet, even once she's out of the closet, Santana will continue to be a mean girl from Lima Heights, because at the end of the day that's what she is, as she demonstrated when she later bitch-slapped Finn.
Sue: ?
And how did you like the political tape questioning Sue's sexuality? As you may recall, Sue's perfect dating match was herself whom she subsequently married (wearing a fabulous track suit wedding gown btw), a few episodes back. I can't wait for Sue to use that as a rebuttal. LOL.
No More Dodge Ball Ever!!!
I would have liked to have seen Kurt go "Joan Crawford Wire Hangers" during his no more dodge ball speech. Nevertheless, dodge-balling Rory, made a great platform segue for his anti-bullying campaign, and I thought it was noble of Rachel to step down and pledge her support to Kurt.
LOL Moments
Sue's baboon heart campaign ads almost had me crying from laughing so hard. Anything with a monkey and cymbals will illicit a chuckle from yours truly.
Memorable quotes
• Santana: "Please stick a sock in it or ship yourself back to Scotland. I'm trying to apologize to Lumps the Clown."
• Rachel: "I just really want to be your friend again." Kurt: "Well maybe you should have thought of that before you walked all over me on your borderline sociopathic climb to the top."
• Brittany: "Rachel Berry is still on Myspace."
• Santana: "The Trouble Tones are 3F, fierce femme and phenomenal."
• Sue: "I'm Sue Sylvester, I have a human heart and I approve this message."
Music featured
• "Someone Like You/Rumor Has It"
•"You and I/You and I"
•"Hit Me With Your Best Shot/One Way or Another"
•"Hot For Teacher"
•"I Can't Go For That (No Can Do)/You Make My Dreams"
Gleeks, Glee is on hiatus for the next two weeks. So, have a Happy Turkey Day, and I'll see you then!