Glee Watch: Season 4 - Glee, Actually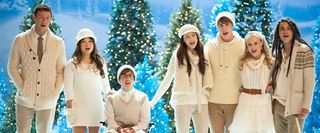 Gleeks, last night was Glee's annual holiday episode. And Sue Sylvester summed it up best: it was an episode of seemingly separate story lines coming together as one holiday-themed episode. Let's recap, shall we?
Artie
Our first holiday storyline of the night was Artie who suffers a nasty fall on an unsalted ramp. (Shouldn't he sue McKinley High for that?) While sleeping in the nurse's office, Artie is visited by Rory who acts like Clarence from It's a Wonderful Life. Rory shows Artie what life would be like if there had never been the accident that landed Artie in a wheelchair.
During Artie's dream sequence, we got a great cameo from drunk Schue's ex-wife Terri and Artie gave a stellar performance of Feliz Navidad (I loved the dancing on the desk). We also saw that most of McKinley High's seniors (Finn, Puck, Brittany and even Kurt) would have failed their senior year if it wasn't for Artie. (Who knew he was the glue that held Glee together?) By the end of Artie's bizarre dream, he was ready to return to reality and ask for help when he needs it.
Kurt
In NYC, Kurt's storyline was a mixed bag of emotions. First, he gets the unexpected holiday treat of a visit from his dad. But Burt also has something to tell Kurt: Burt has prostate cancer. Oh no! Can't poor Burt catch a break? Then Blaine arrives and duets/ice skates with Kurt. Awww. As Burt looks on, Blaine promises that he will always be there for Kurt even if it is only as friends. (We also learn Blaine plans to apply at NYADA!) Hmm, am I the only one who thinks Burt is downplaying how serious the cancer is? He says it was caught early, but I just have a feeling something isn't right.
Jake and Puck
Puckerman returns to bring a bullied Jake back to L.A. with him for the holidays/Hanukkah. While in L.A., Jake learns Hollywood life isn't as big and grand as Puck makes it out to be. So, Jake asks Puck to come home with him for the holidays.
How great was the Breadstix scene when Puck and Jake's moms finally sat down together? After a rough start, the ladies put their differences aside, and everyone agrees that the boys' father who abandoned them is the one to hate. Puck also reveals he plans to return to Lima permanently.
Brittany/Sam/Coach Beiste
Something is up when Brittany hands out big gifts like a Rolex and car. It seems that she believes the world will end on December 21, and wouldn't you know, so does Sam. Brit and Sam decide to start an end of the world club and purify themselves by telling everyone what they really think about them. Their candid remarks don't go over well with their classmates. Haha. These two always crack me up.
Then when Coach Beiste learns that Brittany and Sam plan to get married, she gets in on the action by officiating their end of the world wedding. Of course, the world doesn't end, and Brit and Sam freak out when they realize they are "married." Later Beiste assures them that the wedding wasn't legal and even gives them hope that there is a chance the world will end in September 2014.
Sue/Becky/Marley/Marley's Mom
This year Sue isn't feeling very Grinchy, although Becky is. (Whatever you do don't give Becky a Benetton sweater!) Sue gets Marley's mom for the faculty Secret Santa and gifts her a Christmas tree, presents and cash. (All thanks to selling a rare expensive toothpick tree! LOL) When Marley's mom tries to return the money, Sue tells her to keep it because she knows what it is like being a single mother. Aww. Then acerbic Sue returns and tells Marley's mom to sidestep it the hell out of her office. LOL
Storylines Come Together
And just like in the movie Love, Actually (which is what Glee was going for), all of the story lines come together with a final holiday heartfelt song to thank Sue for her generosity to Marley and her family. And we even got stage "snow" courtesy of Becky.
LOL Moment(s)
I can just imagine Rachel and her dad's on their gay holiday Rosie O'Donnell cruise. And Brittany and Sam's entire end of the world storyline with Coach Beiste was hilarious.
Memorable quotes
Brittany: "You guys, welcome to the first meeting of the 2012 Mayan Apocalypse club." Tina: "Wait, that's what this is?" Sam: "Don't worry, it's also the last meeting."
Burt: "Well, the Rockettes might have better legs than me, but they can't touch my Single Ladies performance."
Sam: "Brittany, I've always thought you were super hot and really smart, but what I didn't know was that you were going to end up being my soul mate. Who knows what the future holds for us. Probably tsunamis and horrible sea monsters. But I'm not worried about that because I have you." Brittany: "Sam, when you first joined the glee club, I didn't notice for a while. It wasn't until you did a Rich Little impression and then told me it was a Rich Little impression and then explained who Rich Little was that I knew you were special. And I can't tell you how excited I am to become your Mayan star-wife."
Featured music
"Jingle Bell Rock"
"White Christmas"
"Have Yourself a Merry Little Christmas"
"Silent Night"
"Joy to the World"
"The First Noel"
"I'll Be Home for Christmas"
"Feliz Navidad"
"Hanukkah, Oh Hanukkah"
"Happy Xmas (War Is Over)"
Gleeks, that's the last episode of 2012. Glee will return Jan. 17, 2013. Have a happy holiday and see you next year!
Your Daily Blend of Entertainment News
Thank you for signing up to CinemaBlend. You will receive a verification email shortly.
There was a problem. Please refresh the page and try again.