Hawaii Five-0 Finds Scott Caan A Love Interest...From Entourage.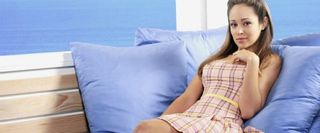 It was barely two days ago that the sophomore series from CBS announced a major guest star, on top of the several they had already lined up, and now Hawaii Five-0 continues to stack the deck. Yep, two days ago it was none other than Captain America himself (sorry, not Chris Evans), Peter Fonda, and now, someone a little younger, prettier, and with a previous connection to one of the show's stars...the same star that she's supposedly set to start making eyes with.
As TV Line reports, "Hawaii Five-0 is playing host to an Entourage reunion this fall, casting Autumn Reeser as a love interest for Scott Caan's Danny." If you don't recall (or don't watch), Reeser (adorable) played a tough young agent on the rise at Ari Gold's Miller Gold agency before butting heads with her megalomaniac boss. Her role on Hawaii Five-0 is much more likable (especially if you're Caan's Dann-O), as she's slated for the recurring role of Dr. Akina, the curator of a local museum who, a la Robert Langdon, uses her maritime museum expertise to help the team solve a crime. Throughout the investigation, Danny gets more and more smitten until...we'll see.
The addition of Reeser comes on the heels of, the aforementioned Fonda casting, as well as recurring roles for Terry O'Quinn (John Locke!), Booker T. Jones (uh, Renaissance Man!), and Laura German (Hot!), as well as guest arcs for William Baldwin and Tom Sizemore. The second season seems pretty star studded...well, TV-star studded, so let's hope it's not too much of a distraction or gimmick to sideline the solid tropical police procedural from Alex Kurtzman and Roberto Orci, because they are too busy to come in and fix the wrongs (Star Trek 2, people).
Hawaii Five-0 premieres Monday, September 19th at 10 p.m.
Your Daily Blend of Entertainment News