Hawaii Five-0's Taryn Manning Joins Orange Is The New Black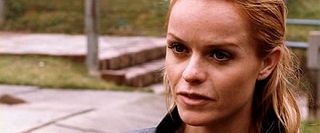 Netflix's upcoming series from Weeds creator Jenji Kohan has added to the cast for a major recurring role. Taryn Manning of Hawaii Five-0 and Sons of Anarchy will appear on 9 out of the 13 episodes the streaming provider has ordered for Orange is the New Black.
The series stars Mercy's Taylor Schilling as Piper, an engaged (Jason Biggs has been cast in the role of her fiancé) Brooklyn woman who finds herself behind bars in a federal penitentiary as a result of her long ago college relationship with a drug runner, played by Laura Prepon (That 70's Show), who is also doing time. Deadline says Taryn Manning will be playing another of the inmates, Tiffany Doggett. The character is described as a wild child from Waynesboro, Virginia who earns the nickname "Pennsatucky" for her Appalachian accent. A born-again Christian, Tiffany still has major anger problems and doesn't get along well with the other inmates.
Orange is the New Black is based on the book by Piper Kerman, on whose real life experience the main character and plot are based. It's among a small group of shows Netflix has been working on as they move into the world of original programming. Also on tap are Lillyhammer, Hemlock Grove and the Kevin Spacey project House of Cards. The cast for Orange is the New Black has been coming together nicely, and although the plotline still leaves me with some reservations – women in prison just carries so many connotations – I have to say this show is sounding better all the time.
Your Daily Blend of Entertainment News
Thank you for signing up to CinemaBlend. You will receive a verification email shortly.
There was a problem. Please refresh the page and try again.