How I Met Your Mother Finds Their Slutty Pumpkin In Katie Holmes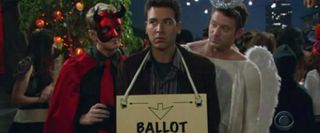 Mrs. Tom Cruise is also an actor, you know. Katie Holmes has been on Broadway, both network and cable television, and in many a feature film. In fact, she was one of the ultimate girl crushes of the '90s, playing Joey on the popular teen melodrama Dawson's Creek. Now she's going to be one of Ted Mosby's ultimate girl crushes on this season of CBS' hit sitcom How I Met Your Mother.
No, she's not the mother (uh, we don't think) but instead she's playing another heavily built-up character on the Craig Thomas and Carter Bays comedy. Vulture (opens in new tab) reports that Holmes will make an appearance on the CBS series later this year (October, around Halloween, may be a safe bet) as the infamous "Slutty Pumpkin." Yes, those who started watching with the series from the very beginning (or went back to fill-in) will be familiar with the infamous Slutty Pumpkin.
The Slutty Pumpkin is just one of the many, many, many ladies that our hopeless(ly annoying) romantic lead has been in love with over the show's seven seasons, but I doubt this will materialize into anything lasting. That's right, we're still learning, in every enjoyable detail, how Ted met his kids' mother. Vulture caught up with co-creator Craig Thomas, who has this to say about the role: "Katie is a lovely and talented actress, which is why we've saved for her perhaps the most classily named character in our show's history."
Holmes was last on a weekly series with a recurring role on ABC's short-lived (but entertaining) Eli Stone and she also played Mrs. Jackie Kennedy in last year's The Kennedys miniseries. How I Met Your Mother airs Mondays on CBS at 8 p.m.
Your Daily Blend of Entertainment News
Thank you for signing up to CinemaBlend. You will receive a verification email shortly.
There was a problem. Please refresh the page and try again.