Jonas Moore Set To Become A TV Series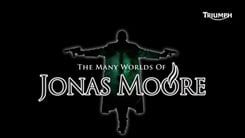 I have some great news for the many fans of The Many Worlds of Jonas Moore out there. According to Yahoo News , there is a serious chance that the story could be coming to television!
If you haven't heard of the The Many Worlds of Jonas Moore , you might be living in a cave. So come out of hibernation, and join the revolution. Jonas Moore is a graphic novel (think Sin City) only available on the internet. The story is kind of like The Matrix trilogy, but with a different twist.
For those of you who don't know what Jonas Moore is all about, I found a super informative article at Scoop IT . The short version is: "Designed specifically for download onto the iPod and PC The Many Worlds of Jonas Moore combines comic book illustration, with 3D animation, live action photography, newsreel archive and an original music score. The project pushes the boundaries of the graphic novel genre to the next level and creates an entire new form of media and fan generated content in the process."
More than anything, the entire project is designed to give itself back to the users. Everyone is encouraged to send in their own fan art, to do their own versions of the soundtrack and to write fan fiction. It is a sweet idea, and it's done really well.
"Jonas" -- written, produced and directed by Howard Webster -- is set in a time where the British Empire has never ended and America is just one of thousands of virtual worlds hosted on a vast global game network. When Jonas Moore (Colin Salmon), a character created by the network's founder, becomes self-aware, he is tagged by the network as a virus and goes on the run. He begins spreading his knowledge of the games to the other characters, which precipitates a revolution and fight for freedom against the murderously addicted real-world gamers."
At this point, "MGM Domestic Television Distribution has optioned the Factory Publishing property with an eye toward developing it as a series." There is no word yet on where they will be developing it (Cable, Broadcast, etc), but they are shopping it around.
I can't wait to see what they do with this!