Katy Perry Impersonates Russell Brand In Saturday Night Live Promo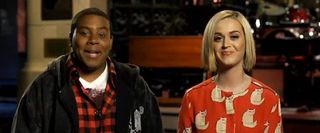 Katy Perry is set to host Saturday Night Live this weekend with musical guest Robyn. We have the promotional videos fro the episode, which has Perry and SNL vet Kenan Thompson exchanging banter.
It's going to be interesting to see how Perry does hosting an episode of Saturday Night Live this Saturday night. I remember back in 1994, Nancy Kerrigan hosted an episode of SNL and since then I've come to realize that you never really know what to expect when someone other than an actor/comedian hosts an episode. Will it be funny? Or will it just be awkward? Given what we've seen of Katy Perry in the past, I'd say she's up for the task.
The promos below have her joking around with Kenan Thompson, and in one case, doing an amusing impersonation of her British husband Russell Brand's accent...
Saturday Night Live airs Saturdays at 11:30 p.m. ET on NBC.
Your Daily Blend of Entertainment News
Thank you for signing up to CinemaBlend. You will receive a verification email shortly.
There was a problem. Please refresh the page and try again.