Kiefer Sutherland, That 70's Show Cast, And Others Join Fox's 25th Anniversary Special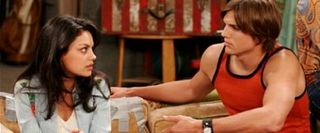 The Fox 25th Anniversary special is growing quickly, with more stars of past hits signing on to honor the groundbreaking network's first quarter-century on the air. It's shaping up to be a great retrospective of the many shows that have come and gone from Fox over the years, plenty of which are among the most memorable on television.
Already announced is a Married With Children cast reunion to include the entire Bundy family: Ed O'Neill, Katey Sagal, David Faustino and Christina Applegate. There's also an X-Files reunion on tap, with both David Duchovny and Gillian Anderson planning to show up along with Chris Carter, and an original 90210 cast gathering with Ian Ziering, Shannen Doherty, Jason Priestley and Garbielle Carteris. Oh, and Calista Flockhart of Ally McBeal is on board too.
The latest to agree to come by and celebrate, according to Deadline are the all-grown-up cast of That 70s Show: Mila Kunis, Laura Prepon, Ashton Kutcher and Wilmer Valderrama will represent that show. And just as they get to work on the new version of In Living Color, the Wayans brothers will pop by as well. Kiefer Sutherland, who is just starting up a new dramatic role on Touch for Fox will come by – he's of course a long time Fox veteran on 24. Also signed on is Seth MacFarlane, the man behind Family Guy, American Dad, and The Cleveland Show, some of Fox's top animated hits. Oh, and of course we'll see Ryan Seacrest – where don't we see him? – as well as Idol judges Randy Jackson, Jennifer Lopez and even a visit from Steven Tyler.
While the former Fox stars list is growing by the day, the network has yet to choose a host (I'm surprised it's not Seacrest) to handle the master of ceremonies role for this momentous occasion. 25 years of Fox? I would admit I remember their first broadcasts, but that would date me.
Your Daily Blend of Entertainment News
Your Daily Blend of Entertainment News
Thank you for signing up to CinemaBlend. You will receive a verification email shortly.
There was a problem. Please refresh the page and try again.