MTV To Preview Quarterlife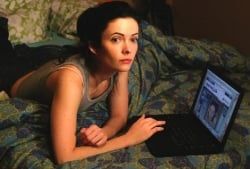 MTV, the network that resurrected My So-Called Life for a new generation, will help launch Life producers Marshall Herskovitz and Edward Zwick's new NBC series Quarterlife. MTV plans to air a 22-minute preview of Quarterlife at 4:30 p.m. ET on Feb. 26, hours before the series debuts on NBC.
Quarterlife has been airing online in eight-minute installments for a few months now on MySpace and Quarterlife.com, which dubs as a social networking site. The series focuses on Dylan, a blogger who writes and video blogs about her life and her group of friends.
"We're thrilled to have NBC's outstanding support and excited about [network co-chairman] Ben Silverman's plans to put 'Quarterlife' in front of as many people as possible," Herskovitz told Zap2It. "We also couldn't be happier about working with MTV again -- they were the network that resurrected 'My So-Called Life,' for which we will always be grateful."
My opinion about the trailer for the series keeps shifting. At times, Quarterlife seems like a trite, whiny twentysomething drama with little to offer. Still, it's produced by Herskovitz and Zwick who, aside from My So-Called Life, gave us great dramas like Thirtysomethig and the little-watched Relativity. So the potential for greatness is there. Let's hope Quarterlife lives up to its potential, and if it does, let's hope MTV helps convince the masses to catch it on NBC.
Your Daily Blend of Entertainment News
Thank you for signing up to CinemaBlend. You will receive a verification email shortly.
There was a problem. Please refresh the page and try again.