Mad Men Creator Matthew Weiner Drops Hints About Season Five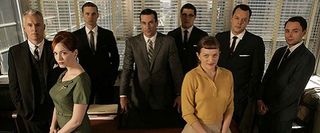 Fans are counting down the days to the March 25th premiere of Mad Men, and the long-awaited fifth season of the series will begin with a two hour episode that creator Matthew Weiner calls "a Mad Men movie." What is in store for Don Draper and those around him? Weiner offered some hints at the TCA cocktail party on Saturday.
The Hollywood Reporter reported the in-depth chat Weiner had about what's coming up for Season 5 and the direction the show might be heading. He promised a premiere that makes full use of its two hours and said the central theme of the upcoming season will be the realization that if you want something out of life, you have to make it happen and not wait for it to happen:
What does this mean for the characters on Mad Men? Weiner offered some insight into Don's future, pointing out that he has been a man attempting to make some changes and improve himself, but left season four making "really, really selfish" decisions. Will Don get married? Weiner was quick to jump on a critic who stated that he was marrying Meagan, pointing out that he proposed, and she said yes, but nobody got married. With typical reticence, Weiner refused to say more.
What he would say amounts to big changes and a refusal to worry about the pressures of topping last year. Weiner admits there's a lot more pressure and competition, but doesn't seem worried about Mad Men's future.
After being off the air since October of 2010, Mad Men has had both a chance to lose some people who might have tired of waiting, but on the other hand picked up plenty of new fans through Netflix, a fact Weiner himself pointed out. Will the long wait be rewarded with a season as good as the last? Weiner says that instead of "chocolate ice cream" this year he'll be offering "orange sherbet", but points out that "it's still ice cream."
Your Daily Blend of Entertainment News
Your Daily Blend of Entertainment News
Thank you for signing up to CinemaBlend. You will receive a verification email shortly.
There was a problem. Please refresh the page and try again.