Mad Men's Sally Draper As A Child Star Psychologist For Funny or Die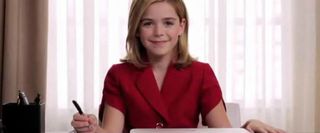 Every now and then it's important to take a break from the seriousness and intense competition of the TV news reporting world (cut-throat) and take a step back and just enjoy a funny, television related video. It doesn't hurt that said funny video, by the immature geniuses over at Funny or Die, contains a few of TV's brightest young talents in a segment called 'Child Star Psychologist' starring Mad Men's Draper daughter Kiernan Shipka.
Although it's a pretty humorous and adorable skit, the need for 'child star psychologist' seems warranted considering the overwhelming number of young actors whose lives go sideways (or even six feet under) because of an inability to cope with the celebrity trappings. Hell, even grown up celebs are constantly battling every kind of addiction, depression or other mental afflictions known to men, why should it be any different in their pint sized counterparts... especially when we start looking at Reality TV shows like Toddlers and Tiaras.
Okay, enough with the pontificating and/or lecturing and on to the adorable fun that I mentioned earlier. In this video, young Sally Draper (aka Kiernan Shipka), a character who has her fair share of emotional trauma over Mad Men's four season run, finds herself uniquely qualified to try and help other young stars with their own psychological issues.
First, she takes a stab at curing Nolan Gould (aka Luke on Modern Family) and his problem with constantly making asides to non-existent cameras and his desire to be taken seriously, "I got my head stuck in a banister eleven times last year alone!" Then comes former child star (and former host of The Dish) Danielle Fishel, best known as Topanga on Boy Meets World right before Shipka prescribes some anti-depressants to Hope, the baby from Raising Hope. Lastly, Shipka faces her biggest challenge of all, Eden Wood from TLC's Toddlers and Tiaras, a girl who has never seen her real face. Let the healing, laughter and tears begin...
Mad Men will return to AMC in 2012. Modern Family airs Wednesday nights at 9 p.m. on ABC. The Dish aired its final episode last March. Raising Hope airs Tuesdays at 9:30 p.m. on Fox. And lastly, the final episode of the fourth season of Toddlers and Tiaras aired on TLC at the end of September.
Your Daily Blend of Entertainment News
Thank you for signing up to CinemaBlend. You will receive a verification email shortly.
There was a problem. Please refresh the page and try again.