Make It Or Break It Won't Return After Season Three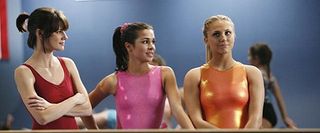 It probably won't come as much of a surprise, but still a disappointment to fans of Make It or Break It, but the word is now official that the series will come to an end after the current season. The current third season is a short run of only eight episodes, and that will be the end of the line; in fact, they were lucky to get those episodes at all.
Deadline says the decision to cancel was already pretty likely; the show only got a third season in the hops of catching some of the Olympics buzz. ABC Family gave the series eight episodes for its third season, and today it's official that the show is done. The drama, which follows young gymnasts, was already struggling in the ratings after the second season, and the network considered dropping it then. The current storyline is following the race for the gymnasts to make the Olympic cut, which fits in well with the current preparations for the 2012 Summer Olympics.
The show will wrap up loose ends and on the May 14th finale, when viewers will find out which of the competing gymnasts wins the chance to head for the Olympics and try for the gold. At least one of the stars of the show is already headed for a new gig; Zachary Abel was cast in the CW's drama pilot Shelter in a leading role just recently. The rest will surely be looking for new work soon.
Your Daily Blend of Entertainment News