Miley And The Jonas Brothers "Rock" Disney Christmas Parade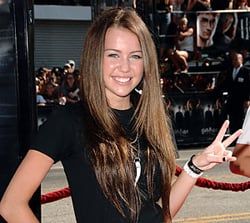 You really only want to watch Disney's Holiday Parade from the warmth and comfort of your home. Actually it's the only way to really see the whole thing as the performances are often recorded on separate days, depending on the artist's availability. Sure the Macy's parade on Thanksgiving is a giant mess of people all pushing and shoving with jovial holiday spirit. It's just plain annoying, and I'll never go. But at least you get to watch a parade. The Disney Holiday Parade on the other hand is a production.
As disappointing as that may seem, it is still a Disney parade. And having been to Disney World twice in the last couple years I know from experience that no one does a parade like Disney. This year the parade kicks off with Miley Cyrus ("It's Miley!!") singing "Santa Clause Is Coming To Town." After that it's a cavalcade of tween music good times with The Jonas Brothers, David Archuleta, Corbin Bleu (High School Musical), and Jose Feliciano. Wait…Jose Feliciano? Sure, he's giving the kids a little latin flavor with his rendition of "Feliz Navidad."
The Walt Disney World Christmas Day Parade, hosted by Regis Philbin and Kelly Ripa, will air on Thursday, December 25th at 10:00 am ET on ABC. Below we have a few clips from the performances by Miley Cyrus and The Jonas Brothers.
Your Daily Blend of Entertainment News
Staff Writer at CinemaBlend.