NBC's The Event Finally Makes Something Out Of Itself With Extensive DVD Release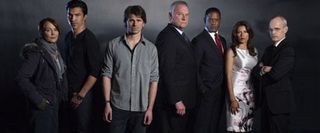 The Event ended back in May, but earlier this month, there was hope it might continue on Syfy. Unfortunately for fans of the NBC program, soon after that rumor arrived, it was shot down by Syfy Senior Executive Craig Engler. Thus, it stands that The Event will only live on in a 22-episode complete series set.
It could be worse. The complete series set will hit DVD only on August 23rd, but the lengthy list of special features goes out of its way to make up for the lack of high definition. Besides, The Event is over and that's sad for fans, but personally, I'm just rooting The Event lead Jason Ritter gets written back into the plot of Parenthood. For now, we'll all have to stick to watching Ritter via this release. Check out all the extras, below.
Bonus Features
Deleted Scenes
Alternate Storyline -- featuring Dr. Dempsey!
"Creating an Event" featurette
"A Day in the Life" -- featuring Jason Ritter
"Magic Behind The Event's Special Effects" -- Show creator Nick Wauters and the VFX team take a look at the technology.
"Building Collapse" featurette
"Visual Effects Magic for 'Inostranka'"
"Enter the White House" -- A glimpse into President Martinez's Oval Office
"I Haven't Told You Everything" and "Loyalty" with Nick Wauters, executive producer Steve Stark, director Jeffrey Reiner, and stars Blair Underwood and Ian Anthony Dale
"And Then There Were More" and "Inostranka" with production designer Stuart Blatt, special effects supervisor Gary D'Amico, and visual effects supervisor Victor Scalise
"Strain" and "Arrival" with Steve Stark and Evan Katz, as well as stars Ian Anthony Dale, Laura Innes, Jason Ritter, and Lisa Vidal
Episode Recaps
Photo Gallery
$59.98 may seem like a lot for a series that only lasted one season. However, with all the extras, we'll still be getting five discs and over 15 hours of footage, so it's not as dismal as it may seem at first glance. Plus, to sweeten the deal, Amazon already has a pre-order sale price going on that will be pretty tough to beat.
Your Daily Blend of Entertainment News