NBC Isn't Always Rude, Hannibal Renewed For Season 3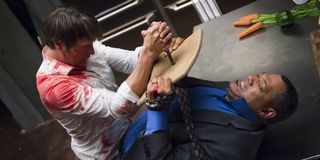 For some reason, this is what I thought of upon hearing the good news. Just replace 'Panama' with Hannibal and enjoy while you read...
A celebratory feast is certainly in order as Hannibal has been renewed for a third season. After all, it would have been rather rude of NBC to cancel the best drama on network television, not to mention one aging like a fine wine. Season 2 got off to an extraordinary start and has somehow managed to keep topping itself every episode, so it's reassuring to know that Bryan Fuller's story based on the iconic character won't be over two weeks from tonight. The gorgeous and compelling nightmare continues. The show tossed some 'people confetti' and shared this pic...
The renewal was officially announced earlier this afternoon, a perfect time to get fan(nibal)s even more excited for the third-to-last installment of the season that has slowly revealed Will's design. And now we don't have to worry about whether or not Hannibal will have a proper finish since, according to Fuller's vision for the Thomas Harris adaptation, this guarantees that the series will at least get to tell all of the events before Red Dragon.
Don't get me wrong, I want to see what the showrunner has in store for us with the Tooth Fairy; however, I could live with turning to Michael Mann's Manhunter and Jonathan Demme's Silence of the Lambs to complete the story. And some of Ridley Scott's Hannibal. Even parts of Brett Ratner's Red Dragon are pretty good. Sorry, off track. I'm obviously hoping to see Mads Mikkelsen's version of the villain go through all these stories under the sure hand of Bryan Fuller (with or without the rights to Clarice), but it's important to take it one season at a time and just getting to the end of the third one is huge.
There's an exclusive new look at tonight's episode, "K? No Mono," on Hannibal's Tumblr. Here's the "old' one for good measure. Oh, and there's also a picture (from reddit) that offers a look at next week's "Tome-wan," this season's penultimate installment. It's quite telling for those familiar with the source material. I'm warning you "up here" in case you don't want to spoil your appetite. Otherwise, chow down...
Hannibal returns with Episode 11, "K? No Mono," tonight at 10:00 p.m. ET on NBC. Created by Bryan Fuller and (loosely) based on the novel 'Red Dragon' by Thomas Harris, the series stars Hugh Dancy, Mads Mikkelsen, Caroline Dhavernas and Laurence Fishburne.
Your Daily Blend of Entertainment News
Thank you for signing up to CinemaBlend. You will receive a verification email shortly.
There was a problem. Please refresh the page and try again.