Hannibal Season 2 Review: A Second Helping As Delicious As The First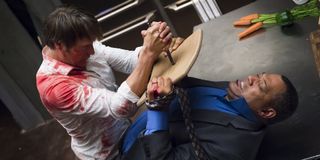 After a terrific first season and (what felt like) a terribly long wait, Hannibal returns to NBC tonight with a highly anticipated second helping. Fans of Bryan Fuller's take on Thomas Harris' iconic characters have been starving for more ever since the first taste of his inspired adaptation left their mouths. And two episodes into Season 2, Hannibal is just as delicious as ever. Maybe more.
As I said in the primer for the premiere, it's hard not to use puns when writing about the decadent series, but I'm going to do my best to to pass on the opportunities because Hannibal is no joke. It's still the best drama on network television. Of course, that's not to suggest the show's without levity; Fuller infuses the horror with a sense of fun. I mean, he gives his episodes food related titles. Last season it was all French cuisine. This year, Japanese.
Anyone familiar the source material — be it Harris' "Red Dragon" (and subsequent novels) or the feature films — are likely to get an extra kick out of Fuller's winking nods and reversals. At the same time, everyone will appreciate a version so unique and compelling. The small screen adaptation always feels playful and it shines through in otherwise nightmarish scenarios. That's largely what the series is about: showing the audience what a nightmare it is to be Will Graham.
But as dark as his dreams become they are still beautifully photographed and full of rich characters constantly sparring with witty dialogue. The returning cast continues to shine in their respective roles with Mads Mikkelsen deserving special mention for continuing to make a role performed by four other actors feel so fresh — especially considering Anthony Hopkins won an Oscar for his portrayal. Having said that, Mikkelsen's Lecter is the best take on the cannibal yet, able to bring everything that his predecessors had as well as an imposing physical presence.
I don't want to diminish the wonderful work Hugh Dancy is doing as Graham, but he doesn't face as big of a challenge as Mikkelsen in making the tortured character his own. As a pair they are fantastic. The other members of the ensemble are also great in their roles, especially Laurence Fishburne as Jack Crawford and Gillian Anderson as Dr. Bedelia Du Maurier. However, since Hannibal is really about the relationship between the two leading men they deserve most of the praise.
And Bryan Fuller, of course. Everything ultimately boils down to his brilliant vision filled with luscious production design and beautifully macabre dreamscapes. The way the characters are drawn and how every case not only adds a horrific tale to tell each week (and boy, is the first one horrific) but deepens the relationship between Hannibal and Will, is impressive. They are so alike and yet so different. Each brilliant but both with their weaknesses. It's a thrilling dynamic and this is only the beginning of their chess match.
It's scary to think how close we potentially came to not having a second season of Hannibal. NBC could have easily not renewed the under-watched series, yet the show made it by on critical acclaim. It's a rare feat and something that shouldn't be taken for granted. I don't want this series to be another great that needs a 'save the show' campaign. Savour this show while it's on the air. And look, it's dinner time. Oh, right. The puns.
Hannibal returns for its second season premiere, "Kaiseki," on Friday at 10:00 p.m. ET on NBC. Created by Bryan Fuller and based on the novel 'Red Dragon' by Thomas Harris, the series stars Hugh Dancy, Mads Mikkelsen, Caroline Dhavernas, Cynthia Nixon, Gillian Anderson and Laurence Fishburne.
Need more convincing? Watch the opening scene...
Your Daily Blend of Entertainment News