New NBC Series: My Own Worst Enemy - Fall 2008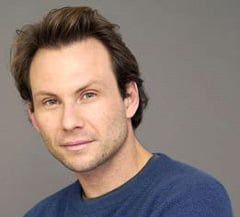 NBC recently released the list of new series coming out this fall. Among them is, My Own Worst Enemy, which as of right now, is set to take over the 10 pm spot following Heroes on Monday nights. In this series, Christian Slater plays a guy living two lives. One life involves a wife, two kids and a dog. The other involves knowing how to kill people… with his teeth.
Here's the information NBC released about the series:
"MY OWN WORST ENEMY - Henry Spivey (Christian Slater, "Bobby") is a middle-class efficiency expert living a humdrum life in the suburbs with a wife, two kids, a dog, and a minivan. Edward Albright is an operative who speaks 13 languages, runs a four-minute mile, and is trained to kill with his teeth. Henry and Edward are polar opposites who share only one thing in common -- the same body. When the carefully constructed wall between them breaks down, Henry and Edward are thrust into unfamiliar territory where each man is dangerously out of his element. "My Own Worst Enemy" explores the duality of a man who is literally pitted against himself. And it raises the question: who can you trust when you can't trust yourself? The series is produced by Universal Media Studios. Jason Smilovic ("Kidnapped") is the executive producer; David Semel (director of the "American Dreams," "Heroes" and "Life" pilots) is the director and executive producer.
I don't know. The premise for this show sounds interesting enough but I'm convinced that the Monday night 10 p.m. spot on NBC is cursed (either that or people are just too tired to watch TV that late on Monday night). The Black Donnelly's, Studio 60 and Journeyman are among the failed series that once resided in that timeslot. Not a good sign. Regardless, I like spy shows and Christian Slater, so I plan to check it out when it premieres this fall.
For the full Fall '08, Winter '09 and Summer '09 NBC line-ups, CLICK HERE.