The Office Season 7 Scrimps On Bonus Features, Saves You Ten Bucks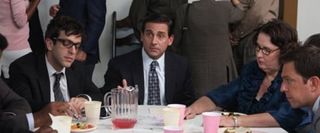 Dunder Mifflin celebrated a season of changes in 2010-2011, played out most apparently when Michael Scott (Steve Carell) left The Office to be with his girl, Holly (Amy Ryan). Fortunately, that led to a slew of guest stars, including Will Farrell, Will Arnett, James Spader, Catherine Tate, and Jim Carrey. If you didn't catch the episodes when they aired, NBC has Season 7 episodes available on its site. If you're looking to rent or own, Universal Studios Home Entertainment is bringing the set to DVD and Blu-ray September 6th.
The Office usually goes above and beyond with extras, but the Season 7 packet shows somebody, somewhere has run out of steam. Not that there aren't several special features. Most of the basic format The Office has used in the past -- deleted scenes, commentary, webisodes -- are present, just in smaller numbers. Gone are the days when Universal would proclaim "three hours of bonus footage," ripe with an exclamation point!
Buyers of Season 7 will get over an hour of deleted footage, as well as extra footage that will include the extended version of Threat Level Midnight, a film by Michael Scott. The set will also include three webisodes, along with a blooper reel. Five of the episodes will include commentary: "Nepotism," "PDA," "Threat Level Midnight," "Goodbye Michael," and "Dwight K. Schrute, (Acting) Manager." The commentary comes from much of The Office cast, sans John Krasinski and Jenna Fischer, and some of the production crew. Blu-ray extras include BD-LIVE and pocket BLU.
All in all, The Office Season 7 is still a nice little set, and if there are any complaints that Universal didn't go all out, as usual, just know the Season 7 set will cost 10 dollars less than the last few seasons.
Your Daily Blend of Entertainment News