Patty Duke And Meredith Baxter Will Guest On Glee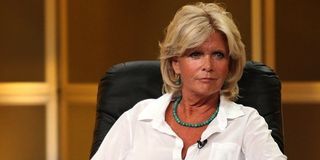 Glee is going to wrap up the season with a visit from two very well known actresses. Meredith Baxter (Family Ties) and Academy Award winner Patty Duke will both be making an appearance on the show's fourth season finale – and word is they are set to return for the (as yet not officially announced) fifth season.
Glee spoilers ahead!
EW says the two actresses will be playing a couple who have a major influence on some of Glee's main characters, an influence that looks to continue into next season. The two women will play a lesbian couple who find themselves mentoring Blaine and Kurt. The bigger spoiler here is that, from the sound of it, there may be wedding bells in the cards for the latter mentioned couple. EW says Blaine meets Duke's character while he's shopping for an engagement ring for Kurt.
Meredith Baxter, who played Elyse Keaton on Family Ties, recently did a guest spot on Switched at Birth, and has done a lot of TV movies along with multiple other guest spots since the classic sitcom wrapped in 1989. She's not the only 80s TV mom to pick up a guest role on Glee recently; Married With Children's Katey Sagal will also be joining the show. I can't think of two more different TV moms than Peg Bundy and Elyse Keaton.
Baxter's co-star for the episode, Patty Duke, is a legendary actress with a television career going back to 1958. She starred in The Patty Duke Show and picked up an Oscar for her role in The Miracle Worker in 1963. Her most recent television appearances have been in Drop Dead Diva's fourth season and the reboot of Hawaii Five-0 (she also guested on the original series in the 70s).
Glee airs Thursdays at 9 p.m. EST on Fox.
Your Daily Blend of Entertainment News