Peter Capaldi Will Return To Doctor Who For Season 9, But What About His Companion?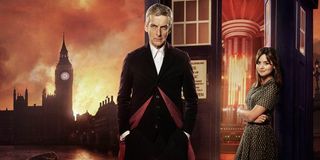 The BBC dropped good news today for fans of the new Doctor. Doctor Who is coming back for its ninth season on the network, and Peter Capaldi has signed on again to play the lead role. So, you'll catch him during the Doctor Who Christmas special next month and then you'll see him again during Season 9. But where does that leave the good Doctor's brave companion, Clara? Will Jenna Coleman return to the series for its ninth season?
Currently Jenna Coleman is not signed on for Season 9 of Doctor Who. Steven Moffat confirmed the news, noting that she hasn't said that she is returning, nor has she said she's not returning, making it one wishy-washy story at this point. Still, the question of whether or not Coleman will return next season is far more exciting than the Capaldi news, as the latter was a shoe-in for next season, having only taken on the role of the Twelfth Doctor this year. He's quite a bit more out-there as a personality and less human than the fun and flirty Matt Smith, but it's not like he's so terrifying that Doctor Who would just cut him from the show.
The real question, then, is whether or not Clara is leaving. Just a couple of months ago, rumors started circulating that Clara would definitely be leaving the series during the show's "sensational Christmas storyline." Since then, she's had a pretty rocky relationship with the Doctor and there have been several occasions when the show seemed to be wrapping up her storyline, only to suck her back into the plotline, again. Is the goal simply to get her to the Christmas special so that she can leave for certain? Perhaps.
The released trailers and clips for the Christmas special don't lead us to believe Clara is done with the show. In fact, following the season 8 two-parter finale, the Christmas special has Clara and The Doctor meeting up once more in a weird plotline involving Nick Frost playing Santa. At the very least, we can definitely say that she will be around for the special, which will air on BBC America in the States on Christmas Day.
For now, THR reports Doctor Who showrunner Steven Moffat is staying mum about Clara's future plans. It could be a savvy marketing move on the showrunner's part, or he could potentially be protecting a secret. Whatever the reason, we won't have too long to wait to catch Coleman and Capaldi teaming up during the Christmas special. I'm sure it will be a good episode, and hopefully, we'll be able to finally put all of those Clara rumors to rest.
Amazing Race & Top Chef superfan with a pinch of Disney fairy dust thrown in. If you've created a rom-com I've probably watched it.
Your Daily Blend of Entertainment News
Thank you for signing up to CinemaBlend. You will receive a verification email shortly.
There was a problem. Please refresh the page and try again.