Regis Phlibin Announces His Retirement From Live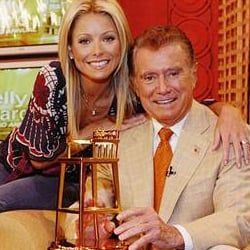 After 28 years of chatting with celebrities and smiling at audience members early in the morning, Regis Philbin will be leaving the morning show he created, first with Kathie Lee Gifford and more recently with Kelly Ripa as a co-host. He announced the news this morning on Live With Regis And Kelly; you can watch him break the news in the embedded video below, in which he calmly explains "it's been a long time" and made cracks about his age (he turns 80 this summer).
Ripa, who has been a co-host for 10 years, will stick around with a new co-host to be named shortly. Philbin has taken many periods of time off from the show in the last few years-- something you'd expect from any septuagenarian, even one with that much energy-- and at various points the likes of Anderson Cooper, Survivor host Jeff Probst, Neil Patrick Harris and even Ripa's husband Mark Consuelos have filled in for him. None of them are likely to step in as permanent hosts, given that they've all got plenty lucrative jobs to go back to, so let the speculation begin now about how might replace Regis Philbin-- or if anyone possibly can.
Staff Writer at CinemaBlend
Your Daily Blend of Entertainment News
Thank you for signing up to CinemaBlend. You will receive a verification email shortly.
There was a problem. Please refresh the page and try again.