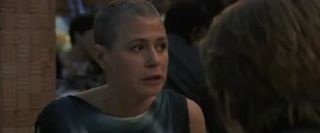 There's a new episode of Rescue Me set to air on FX tonight. In case you're on the fence about tuning in, we have an amusing clip for you to check out. It's moments like these that make me wish for more Maura Tierney appearances on the show.
Kelly's such a great presence in Tommy's life. She doesn't really have a stake in what's going on in his life, plus she obviously has her own issues to deal with, so she calls it like she sees it. In the clip below, we see that she doesn't discriminate when it comes to her honestly. I'm not sure what part I love more, how she tells the story, or how Tommy reacts to it.
"Baseball, baseball, blah, blah, blah."
The way she tells the story and just how she is in general has me imagining Derek Jeter trying to flirt with Kelly, attempting to play it cool at first and then eventually slowly starting to throw braggy comments out there in the hopes of winning her over, and only resulting in boring her even more until she finally tells him to stop talking to her.
Rescue Me airs Wednesdays at 10PM ET/PT only on FX.
Your Daily Blend of Entertainment News
Thank you for signing up to CinemaBlend. You will receive a verification email shortly.
There was a problem. Please refresh the page and try again.