Rob Preview: Are They Talking Or Arguing?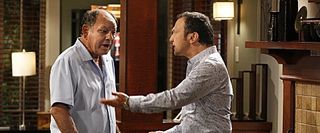 Joining CBS' primetime line-up this January is Rob Schneider's new comedy Rob. There's a promo for the series that gives us a glimpse into the family situation Schneider's character has married into. Check it out ahead.
Rob or ¡Rob! as CBS has it formally titled, stars Saturday Night Live's Rob Schneider as a man who elopes with a Mexican-American woman (Claudia Bassols) and returns home to face her "overprotective, judgmental parents," Rosa (Diana Maria Riva) and Fernando (Cheech Marin).
The video below, originally posted at the Hollywood Reporter, shows Rob surrounded by his new family and watching as they bicker loudly with one another...
Rob Schneider and Cheech Marin's involvement in the series may or may not be a big selling point for this new CBS comedy series, which is set to take over Rules of Engagement's spot. . I'm guessing a lot of the humor will be based around the culture clash between Rob and the family he's married into. That's what the above video is selling, anyway. He hears arguing. They hear talking. Laughter.
¡Rob! premieres Thursday, January 12, 2012 at 8:30 p.m. ET on CBS.