Ron Howard To Direct Aztec Drama, Conquest, For Showtime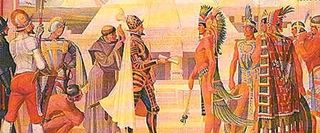 Showtime has a knack for producing good historical dramas, with both The Borgias and The Tudors before it proving to be an addictive mix of history and soap opera. If actual history wasn't this entertaining, it should have been. Now Showtime is adding another high-profile period drama to its lineup, with Ron Howard on board to direct Conquest, which will examine the conflict between Spanish conquistador Hernan Cortes and Moctezuma II, the last ruler of the Aztec empire. Spoilers: it didn't turn out so well for the Aztecs.
The show is described as " a classic war story about two powerful men and their people ultimately leading to the destruction of the Aztec culture and the men themselves." There's a long history of narratives using a backdrop of massive events to contrast comparatively small, personal stories (Casablanca, Gone with the Wind), and that sounds like what they're going for here. It's a show that's rich with potential, because it's a setting and a period that really hasn't been explored that much in TV or film. And if the production values of The Borgias and The Tudors are anythng to go on, Conquest should be a gorgeous show.
According to Deadline, Conquest is a passion project that Howard has been trying to get going for years now, originally intending it to be a movie. Howard will executive produce the show with his Imagine Entertainment partner, Brian Grazer, and writer Jose Rivera, who is also penning the pilot script. Rivera earned critical praise a few years back for writing the script for The Motorcycle Diaries, which chronicled a road trip that Che Guevera went on when he was a young man. Proving that Rivera has apparently been typecast as a guy who writes well about modes of transportation, he also wrote the script for the upcoming adaptation of Jack Kerouac's On the Road. And waaaaaaayyyy before that, he co-created the show Eerie, Indiana back in 1991.
Writer Hans Belmer, who sounds like a Die Hard villain and is knowledgeable in the area of Mexican/Aztec history, will serve as a consultant on the show. It's good to hear they'll have somebody around to make sure the Aztec extras aren't fiddling around with their iPhones in the background.
Your Daily Blend of Entertainment News
Your Daily Blend of Entertainment News
Thank you for signing up to CinemaBlend. You will receive a verification email shortly.
There was a problem. Please refresh the page and try again.