SOAPnet Will Become Disney Junior Come 2012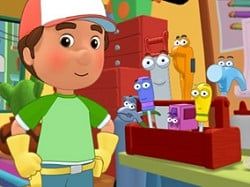 If you're a fan of SOAPnet, you'd better start watching it just as much as you humanly can. Disney has announced that they'll be replacing the network with pre-school oriented Disney Junior in 2012, according to Deadline. The move is partially in response to the advent of DVRs, and the decline in popularity of soap operas; two of the longest running have bitten the dust in the past year.
Of the decision, president of the Disney/ABC Television Group said, "as technology and our businesses evolve, it makes more sense to align this distribution with a preschool channel that builds on the core strengths of our company." To prepare the kids for the transition, the Disney Channel is rebranding their current 'Playhouse Disney' block of preschool programming to 'Disney Junior.'
The new network will feature existing series like Handy Manny, Imagination Movers, Mickey Mouse Clubhouse and Jungle Junction, as well as new series like Jake and the Never Land Pirates and classic Disney animated films. Even more ambitiously, Disney Junior will feature 200 new episodes annually of each series, to air multiple times across their 24-hour programming schedule. This will allow parents to find something soothing and familiar for fussy little ones at any time during the night as well.
Your Daily Blend of Entertainment News
Your Daily Blend of Entertainment News
Thank you for signing up to CinemaBlend. You will receive a verification email shortly.
There was a problem. Please refresh the page and try again.