Seriously, What More Does Jon Hamm Have To Do To Win An Emmy?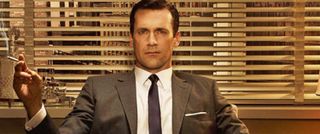 At last night's Emmys Mad Men, one of the best and most consistently surprising shows on television, went 0 for 16. It won no acting prizes, no writing prizes, not even prizes for its universally celebrated design-- it's a loss so massive that it's never been matched in Emmy history. Yes, Mad Men-- which had won 4 Emmys in a row for Best Drama Series-- now holds the record for the biggest shutout of all time.
In a way, they're suffering so that we can all be rewarded. Mad Men didn't lose so many prizes because it was bad, but because there was good competition, and a whole lot of it. Homeland was the big winner last night, and beat out Mad Men in pretty much all of the top drama categories, but Don Draper and company also fell down to Downton Abbey (when Maggie Smith beat Christina Hendricks for Best Supporting Actress), Breaking Bad (Aaron Paul's victory over Jared Harris in Best Supporting Actor), and Boardwalk Empire (for art direction, which I can get behind, and then for direction, which is totally unacceptable). We're living in a true golden age of TV dramas, to the point that they're totally eclipsing movies in telling great stories for adult audiences. It's not a question of whether you can find any dramas worth following on TV, but whether or not you have time to absorb all the greatness out there.
But Jon Hamm's Don Draper is not asking you to absorb the greatness or take the time to seriously weigh the depth of his reined-in performance against the sociopathy of Bryan Cranston's Walter White. He's staring you right in the eye, not even saying a word, and convincing you, before you even know he's done it. Hamm has spent five years now creating a brand-new American icon on television, the pitch man and hard-seller with a fresh shirt and tired eyes, the ghost with a dark past who keeps propelling himself up and up into a shinier and better version of his previous life. He and Mad Men's creator Matthew Weiner put their heads together to demolish the masculine myth of the 50s and 60s, and though there's an incredible depth of greatness on the show, it all starts with Don Draper and his ability to sell you on absolutely anything.
So why hasn't he been able to sell the Emmy voters, year after year? In a way it's not his fault-- Bryan Cranston beat him three years in a row because Breaking Bad is a great show, then Kyle Chandler beat him because there was only one more chance to reward him for Friday Night Lights, and now Damian Lewis has beaten him because Homeland is on a roll. You can't exactly cry foul when you've been bested by incredibly strong competition, and especially when your show has been a winner many times-- before this year Mad Men had won four statues in a row for Best Drama Series.
But Mad Men only has two seasons left to go, and as silly as it might sound, it really is important to give this show an acting award before it's over. For some of the actors it's too late-- Jared Harris's Lane Pryce is gone but not forgotten, and though Elisabeth Moss's Peggy Olson clearly isn't off the show, it's entirely possible her role will be diminished in coming seasons. As good as the show will probably continue to be, it's hard to imagine a better showcase for Christina Hendricks than this season's "The Other Woman," or for Hamm than "Far Away Places"-- you know, the one where he fights with Megan at the Howard Johnson and abandons her. Mad Men has been consistently strong for its entire run, but the cast was on fire in Season 5-- and to see them all miss out on their rewards after doing so well makes me worry that they'll never get that recognition at all.
Staff Writer at CinemaBlend
Your Daily Blend of Entertainment News
Thank you for signing up to CinemaBlend. You will receive a verification email shortly.
There was a problem. Please refresh the page and try again.