So You Think You Can Dance Watch: Top Six Results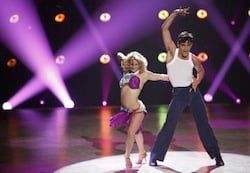 Watching SYTYCD this season has had a little bit more in common with Final Destination than I'd like it to; over the past several weeks, it feels like a ghoulish trend has emerged, as we wait to see who gets sent packing due to bodily harm instead of judge-induced attrition. It reached a level of ridiculousness the minute Cat let loose with those three magic words: "Billy. Knee. Injury."
While we've had dancetestants injured in the line of awesome before, this is different. It's persistent, and three in three weeks is a sign of something. The producers have made no secret of the fact that SYTYCD changed its formula and stepped it up this year; in past seasons, performance-episode solos didn't show up until week six, with each finalist handling one partnered routine instead of two until week eight (or even nine). But ratings and a desire to re-energize the show resulted in everything getting juiced up sooner--in week three, everyone had a solo and a partnered routine. One week later, everyone had two partnered routines. And now, in this week, everyone's got a solo, two partnered routines, and the group number. That's four numbers a week that are increasingly daring and strenuous on our dancers--the human body, no matter how well-trained, athletic and seasoned, isn't meant to accommodate that level of newly-engineered strain every week. These injuries are a direct result of the show's breakneck pace. Our dancers have been turned into prize racehorses and, well, this is what happens. And we all know what happens when a racehorse gets injured.
Rant over. Recap, go:
Kelley Abbey's fun jazz group number opens the evening. It's high on energy if low on pizazz. We get the news on poor Billy (in my head, "Another One Bites the Dust" starts playing right around this point. Not pretty). Lauren's the first dancer to get called out--her Wild West-hip hop routine and samba earn her safety. Kent's next, and America continues their love affair with he of the persistent hugs and megawatt smile; Kent's safe.
There's a really nice pas de deux performed by dancers from the American Ballet Theater. Wow. Those pants are tight. Anyway, Jose, Robert, and AdeChike are rolled out next. Jose's bounding charm keeps pushing him forward, Robert got great marks for his routines, and AdeChike got the best marks of Tuesday night for his hip-hop routine, but both he and Jose get called out for their disappointingPaso Doble. Robert's safe; AdeChike and Jose, DANCE FOR YOUR LIVES!
Not really. But wouldn't that be fun?
We get an awesome showcase performance from DJ Smart, who impressed the judges in Vegas but didn't make the cut. The routine is RIDICULOUS. In a good way. I love the use of handcuffs. I less enjoy the use of boxer briefs. Whatever.
Shameless plug service announcement: National Dance Day is July 31. Flashmobs everywhere, routine choreographed by Tabitha and Napoleon, yadda yadda yadda. Seems a cool idea, if a little half-baked. But, it takes place on a Saturday...so, I guess technically, it's a bank holiday. Whatever, part two. Back to the dance.
All-Stars are up: Lauren and Neil bring back a Wade Robson routine from seasoun four, and it's pretty fly. Can I say fly? It's one of those words that always feels culturally weird to me. Oh well. Said it now, so that's out of the bag.
Moment of truth. Robert and Jose perform the dances of DON'T SEND ME HOME. Robert's contemporary routine is surprisingly moving, and Jose breakdances...which is both flashy and sort of yawn-tastic. I think I'm ready to see him go home.
Judges chat, and Enrique Iglesias reminds me why his old album ended up a coaster in my living room. Wow, I just admitted I owned an Enrique Iglesias album. But yeah, you get the point. The performance is about ninty-four different kinds of awful. Also, he's introduced as simply "Enrique." You are not Prince, Sting, or Madonna, E. Lesson learned? I hope so.
] Judges come back, and I'm fully expecting to hear our third "injury disqualification" this season--but it's not what we get. They tell us Robert's stopped growing, Jose is cute and all but remains undeveloped (THANK YOU!) and then...SURPRISE! No one goes home. Two people get sent packing next week, instead.
Oh well. As long as one of 'em is Jose, I'm happy.
So, see you next week, SYTYCD. Please try not to kill any dancers in the interim.
Your Daily Blend of Entertainment News