Summer TV Preview: Diana: Last Days of a Princess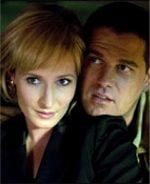 It's been ten years since Diana perished in that fatal crash in the Alma Tunnel in Paris. But, let's face it. People loved her, and it's still hard to accept the fact that she's gone. This sort-of-documentary by Dangerous Films is a re-creation of her final days. Part fiction and part reality, scenes with actors are interspersed with real-life interviews, including new eyewitness accounts.
In the days before her death, Diana (Genevieve O'Reilly) and lover Dodi Al Fayed (Patrick Baladi) are dodging paparazzi during a Mediterranean holiday. After breakfast aboard the millionaire's yacht, the couple boards a private jet and heads for Paris. It's a fateful last-minute change of plans that puts them in the City of Lights together for one more evening. The princess is scheduled to return to England the next day.
But the couple's ever-changing plans are playing havoc with Dodi's bodyguards and their attempts to protect the twosome. And oddly, the rabid photographers seem to know the couple's every move – almost before they make it. Is there a mole in their midst?
At any rate, it's no wonder they're dogging the couple like fox hounds. Rumors are swirling that Diana is pregnant and a wedding is in the works. In this case, a photo isn't just worth a thousand words. It's worth millions of dollars. And as the world would soon discover, the lives of three people – Diana, Dodi, and their driver, Henri Paul – would be snuffed out.
Much speculation and many conspiracy theories have surrounded Diana's final days. Was it murder, or was it simply a horrible accident compounded by her gentle presence in the world? Who knows for sure? It's unlikely this film will put all that to rest.
One thing's for sure, though. You can bet there will be plenty more films, books and documentaries to follow. One is Lifetime's made-for-TV movie, 'The Murder of Princess Diana,' airing Aug. 25 at 9 p.m. EST.
Watch a sneak preview of 'Diana: Last Days of a Princess':
Your Daily Blend of Entertainment News