Summer TV Preview: The Real World: Sydney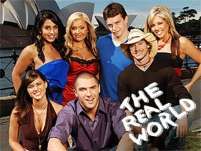 You know the drill. Seven strangers have to learn how to live together with the cameras rolling 24/7. The 19th season of 'The Real World: Sydney,' takes the popular drama-fest to the land Down Under, in a beautiful apartment overlooking Darling Harbour.
So just who are these soon-to-be-famous folks who traveled half-way around the globe for their very own Truman Show? There's Kelly Anne, the girl with emotional baggage. Still suffering from her parents' divorce and a recent split with her ex, will she figure things out or go berserk partying? Cohutta's the true blue American, using long-lost words like "sir" and "ma'am," opening doors for ladies, and believing in love, God, and all those upright things. Will this country boy be a fish-out-of-water in big ole' Sydney?
Dunbar left a troubled childhood behind to support himself at the University of Mississippi. He's got a girl back home, but is that about to change? Bad boy Isaac grew up with drugs and crime, but he's striving to keep a 4.0 grade point average at the University of Arizona. Don't let his gang-like demeanor fool you.
Brainy Parisa wants to change the world and end travesties like world hunger and discrimination. But will this NYU grad find herself in a love triangle? Sexy Shauvon is right at home writing her 'Sex and the City' column, but newly single, she's ripe to jump back into the dating scene – if her past love doesn't come back to haunt her. Trisha's an opinionated Christian girl who received a no-sex "promise ring" from her parents on her 12th birthday. She didn't quite keep that promise, but she's got the perfect boyfriend, so no matter.
While previous seasons have featured the cast taking a vacation, this season's vacation is actually tied to their job. After experiencing a Contiki tour in Queensland, the cast is assigned to a special project for Contiki Holidays, primo vacation company for the 18 to 35 crowd. The mission: Design a two-day Sydney Sightseeing tour. The opportunity to win a European trip ups the ante for friendly competition between the roommates..
And in case there's any doubt that MTV loves its viewers, MTV On Demand will showcase original made-for-VOD segments where viewers can take a tour of 'The Real World: Sydney' house, meet the seven housemates, go "Down Undercover" to explore some of the cast's favorite hangouts, get an insider's look at "What's Cool in Sydney" and learn more about the best of MTV Australia.
If the on-air drama isn't enough, fans can take up residence in Virtual Real World and become part of the story of seven virtual strangers picked to live in a virtual house. Debuting tonight at www.vmtv.com, Virtual Real World will transport viewers directly to Sydney's famous Darling Harbour where they'll enjoy events at some of the city's popular assets. Sweet.
"The Real World" is the daddy of all reality shows, with past seasons taking place in New York, Los Angeles, San Francisco, London, Miami, Boston, Seattle, Hawaii, New Orleans, Chicago, Las Vegas, Paris, San Diego, Philadelphia, Austin, Key West and Denver. The first season, set in New York City, debuted in 1992 and solidified the format of seven strangers living together with the cameras rolling.
'The Real World' was created for MTV by Jon Murray and Mary-Ellis Bunim of Bunim-Murray Productions. Jon Murray and Jim Johnston serve as Executive Producers, and Laura Korkoian serves as Co-Executive Producer of 'The Real World: Sydney.' Drew Tappon and Jacquelyn French are the MTV executives overseeing the project.
'The Real World: Sydney' premieres tonight (8/8) at 10:00 p.m. EST on MTV.
Your Daily Blend of Entertainment News
Thank you for signing up to CinemaBlend. You will receive a verification email shortly.
There was a problem. Please refresh the page and try again.