Superbad Star Cast In Jimmy Fallon's Comedy Pilot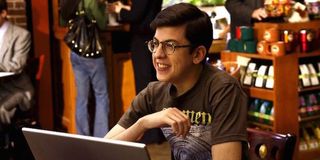 You may or may not know that NBC recently ordered a comedy pilot titled Sharing, exec produced by none other than Tonight Show host Jimmy Fallon. Not yet intrigued? Well, you may be excited to hear the workplace comedy, as it's described, has just cast Superbad actor Christopher Mintz-Plasse.
Mintz-Plasse will play a series regular who goes by the name of Grant. He's described by Variety as an "eager-to-please and confident office receptionist" who is desperate for approval and acceptance. He does everything he can to get others to like him but complicating his efforts is the fact he is completely incompetent.
Mintz-Plasse blasted onto the scene with his hugely successful role of Fogell in 2007's Superbad. He followed that up, playing Augie in David Wain's 2008 film Role Models, in which he co-starred with Paul Rudd, Elizabeth and Seann William Scott. He has appeared in several other bigscreen successes but also ventured into television, appearing in the hilarious Starz series Party Down as well as the 2012 series Friend Me. The comedy actor more recently made an appearance in the funnier than expected Seth Rogen/Zac Efron comedy Neighbors. Mintz-Plasse is hilarious and shows a ton of promise but I still to this day find it difficult to move past his iconic role as Superbad's McLovin. It is inarguably a classic!
Sharing is a single-camera comedy about a group of New York City individuals who work among one another in a shared office space. The ensemble cast is rounded out by Jack Carpenter (The Good Wife) who's onboard to play the "nerdy, sweet and nervous" tech guru Jesse for the company and Jerry Minor (Community, Unbreakable Kimmy Schmidt), who's set to play a regular named Mike who, along with his wife Christine Taylor (Dodgeball), co-owns Open Spaces—the shared "co-working" office space of several different companies. Greta Lee (New Girl) will play Heidi Salazar, a primary employee of Giftr who is heavily invested in the success of the company's app and Stephen Schneider (Broad City) will fill the shoes of a cocky, bold Giftr team member by the name of Todd.
The pilot for Sharing was written by Jeremy Bronson, who previously collaborated with Fallon as a writer on Late Night with Jimmy Fallon. He more recently penned several episodes of The Mindy Project. Bronson will also serve alongside Fallon and Rick Schwartz as exec producer of Sharing. Beth McCarthy-Miller is set to direct the pilot.
Your Daily Blend of Entertainment News
Your Daily Blend of Entertainment News
Thank you for signing up to CinemaBlend. You will receive a verification email shortly.
There was a problem. Please refresh the page and try again.