Switched At Birth Preview: ABC Family Drama Debuts In June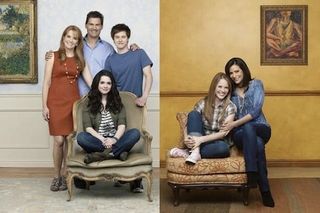 I recently tweeted my "secret" excitement over ABC Family's upcoming hour-long drama series Switched at Birth. Actor D.W. Moffett (Friday Night Lights) tweeted back, "You don't have to be secretly excited. Tell everyone!" So here I am, telling everyone and to celebrate my admission to being genuinely intrigued by the premise of Switched At Birth, I have some info, videos and photos to share with you courtesy of ABC Family.
I have high hopes that Switched at Birth will be the next great must-watch family drama series. The drama, which premieres Monday, June 6th, stars Katie Leclerc and Vanessa Marano as Daphne and Bay, two teen girls whose lives are turned upside down when they learn that they were switched at birth. Also among the cast are Constance Marie (George Lopez), D.W. Moffett (Friday Night Lights), Lea Thompson (Back to the Future), Lucas Grabeel (High School Musical) and Sean Berdy.
The trailer and first look video below are a big part of the reason I'm excited to check this one out.
Check out some episode and promotional photos in the gallery below.
Image 1 of 28
Image 2 of 28
Image 3 of 28
Image 4 of 28
Image 5 of 28
Image 6 of 28
Image 7 of 28
Image 8 of 28
Image 9 of 28
Image 10 of 28
Image 11 of 28
Image 12 of 28
Image 13 of 28
Image 14 of 28
Image 15 of 28
Image 16 of 28
Image 17 of 28
Image 18 of 28
Image 19 of 28
Image 20 of 28
Image 21 of 28
Image 22 of 28
Image 23 of 28
Image 24 of 28
Image 25 of 28
Image 26 of 28
Image 27 of 28
Image 28 of 28