TV Recap: Celebrity Apprentice Finale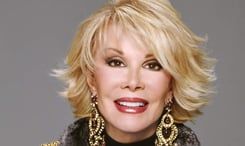 It's time for the last show of Celebrity Apprentice. Can I get a Hell Yeah? I am so ready for this show to be over. I am so irritated that Joan Rivers is in the final two. And, completely irritated that Melissa came back to be on her mom's team. That bi-otch does not deserve any more TV time on this program.
Joan Rivers is a straight up bitch. I am embarrassed that she is part of our culture, and that people love her so much. She is a terribly mean and nasty person. She claims to be all about honor, but she is a mean person. And she won't shut the hell up when other people try to defend themselves. Oh, and the way she vomits about charity, and claiming that as her reason for being here, makes me sick.
The tasks for today are a weird jumble of oddness. Part of it is marketing a Kodak picture frame, selling tickets to Cirque du Soleil and throwing a silent auction party. Not sure how it all went together, but whatever.
Joan's team was of course her daughter Melissa, Herschel Walker and Clint. Annie had Dennis Rodman, Tom Green & Brandy. Surprisingly, both teams worked very well together through the whole show. There weren't any major problems amongst teammates.
The biggest issue was that Joan hated the event planners that Trump got them, and the guy ended up quitting on the whole show. I don't blame him, but it did piss me off when later Joan tried to say it wasn't her fault. WHATEVER.
So, they both sold all their tickets (Herschel Walker was amazing – he got someone to buy ALL the tickets and then gave them away). They both go their Kodak portion ready, but they also both were stuck with only hours left to go with no one to decorate their events. Crap.
Joan got her charity to pitch in and they got their stuff together. Annie had some friends come in and help her out, and found an awesome gal who set her up with a nice event.
So, enough is enough, let's get to the boardroom. Annie and Joan bicker and argue, and they find out that Joan won 3 of the criteria, while Annie smoked her with 2. Joan's total intake was $150K, while Annie brought in over $400k. Trump asks the fired people and last year's final two – Trace Adkins (yay!) and Piers Morgan who he should "hire" and the majority says Joan.
WTF is wrong with these people?? I can't stand her!!!
And somehow, when it comes down to it, Trump agrees. I don't get it. I swear, I will never watch this show again – unless the next one isn't Celebrity and they put Marie Forleo on it. She would rock the house.
Your Daily Blend of Entertainment News
Thank you for signing up to CinemaBlend. You will receive a verification email shortly.
There was a problem. Please refresh the page and try again.