TV Recap: So You Think You Can Dance - Top 12 Perform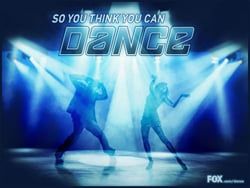 The final six couples (12 contestants) have two dances each tonight to make their case for being in next week's top ten, where they'll switch partners. Cat also reminds us several times that the top ten will be going on tour, so buy your tickets early!
Mia Michaels is our guest judge tonight, with a very interesting top-hat-like...thing on her head.
Chelsea and Mark
First Dance: Salsa
Choreographer:Alex Da Silva
Song: "Fuego" - Joe Bataan
Chelsea literally danced circles around Mark, whom I really expected to be long gone by now. Mark is great at getting into character, but he's a bit stiff in this routine. The choreography is good and there is nothing technically wrong with Mark's execution, but I'm left a bit underwhelmed. Chelsea, on the other hand, was very hot and danced the routine wonderfully which is to be expected since Latin Dance is her style.
Judges: Nigel thought that this was a great routine by De Silva, but thought that Mark needed to relax his upper body a bit. The footwork for both was excellent and Mark has an uncanny ability to get into character. Chelsea's loose style complimented Mark's tight style.
Mary agreed with Nigel's statements and complimented the underarm turns and ending lift onto Mark's shoulder. Mark was an excellent partner and there for Chelsea, who was amazing.
Mia thinks Chelsea is so gorgeous that she wants to stab her. She thought the routine was danced well and thinks that there is something awkward about Mark. It's not clear whether she means that as a compliment or criticism, which is typical of Mia's comments.
Second Dance: Broadway
Choreographer: Tyce Diorio
Song: "I'm A Woman" - Smokey Joe's Cafe Original Cast
This was a much better fit for mark, giving him a character that he took full advantage of. I'm normally not a fan of Broadway, but they made this routine very very hot, and the all-important chemistry was present.
Judges: Nigel called the routine hotter than Vegas in the Summer and drooled over Chelsea's legs.
Mary called the routine sultry, sexy, and bluesy. She once again complimented Mark's strength as a partner and Chelsea's commitment to the routine.
Mia thought it was danced well, though it exposed Mark's lack of training. She also wanted to see more movement from Chelsea.
Comfort and Thayne
First Dance: Hip-Hop
Choreographer:Napoleon and Tabitha
Song: "Can We Chill" - NeYo
I loved the choreography in this routine. Comfort was completely in her element, but I didn't believe Thayne at all. His normal smile came across as smarmy and maybe even slightly sleazy. I felt like I was watching Vanilla Ice dance with Aaliyah.
Judges: Nigel loved the choreography and likes Napoleon and Tabitha's ability to insert characters into their routines, but didn't feel that the dancers lived up to its potential. He singled out Comfort especially, saying that she only related to her partner at the very beginning and very end of the routine. He did not feel that the couple added anything of their own to the routine, merely danced by the numbers.
Mary felt that there was no chemistry in the performance and that it was good, but "just good".
Mia thought that the performance was a little bit more than good, stressing the "little bit" She enjoyed the performance on the stairs at the beginning, but felt that it fell a bit flat afterwards, which would make the majority of the performance flat. She also felt that there was no connection and joined Mary and Nigel in saying that Comfort really needed to step up her game and is not growing.
Second Dance: Contemporary
Choreographer: Mandy Moore
Song: "A Different Corner" - George Michael
I don't really have much to say about this performance. I can't find much wrong with it, per se, but it was so forgettable that it faded out of my mind almost immediately after it ended.
Judges: Nigel apologized before stating that he wished the routine was done by someone else and that he felt that the chemistry was not there to do the choreography justice.
Mary also didn't find the routine believable and felt that Comfort didn't really commit.
Mia also liked the choreography, but also felt that Comfort has come as far as she can go. Mia disagreed with the other judges and felt that Thayne was amazing.
Will and Jessica
First Dance: Contemporary
Choreographer:Tyce DiOrio
Song: "Silence" - Unfaithful (Soundtrack)
As always, Will and Jessica are incredibly hot together. Jessica got me in trouble with my fiance when I agreed that "OMG yes" Jessica is beautiful. Will and Jessica move very well together and have such a good connection that they even breathe together. Will once again sells the routine with his entire body, even his face.
I don't think I understood this piece, but I definitely loved it.
Judges: Nigel thought that this was an "extraordinary" piece of work by Tyce. Nigel noted that Will has beautiful lines and notes that it is hard for Jessica to keep up, but she certainly does it. He also notes that the two breathe together. He contrasts Will and Jessica with Thayne and Comfort by noting that Will and Jess did add something to their routine
Mary said that this was one of the best routines she has seen on the show. At this point, the camera cuts to a stunned Tyce mouthing "WOW". Mary also compliments Will's strength and skill and notes that Jessica has once again stepped up to the plate.
Mia mentions that the first time that Tyce played the accompanying music for her, she fell asleep. She then rambles on about how much she loves Tyce's work before finally getting to the performance, calling it a perfect moving piece of art and complimenting Jessica on embracing the routine.
Second Dance: Quick Step
Choreographer: Tony Meredith
Song: "Bandstand Boogie" - Barry Manilow
Oh no, the dreaded quick step! I never see anything wrong with people's performances of this dance, but I'm also not a big fan of quick-step. For their part, Will and Jessica look like they're having fun with this routine and I thought they danced very well.
Judges: Nigel loved the performance and the stunts, but thought that the actual quick step was "not good"
Mary also didn't like the actual dancing. She questioned if Will's jacket may be partially to blame because its bunching ruined his lines, though she also found many other flaws.
Mia was disappointed, thinking that Jessica backslid and thought that Will looked tired of carrying Jessica and that he needs a new partner.
Courtney and Gev
First Dance: Cha-Cha
Choreographer:Pascha and Anya
Song: "Don't Stop The Music (The Wideboys Club Mix) - Rihanna
Yes, this is former contestant Pascha Kovalev choreographing this routine. After a lesson on exactly how Gev should deliver "the message" by humping Courney's butt exactly right, we get on to the routine.
This really felt more like an outtake from Dancing With The Stars, with the dancers spending more time posing and smiling than dancing. Everytime Gev looked at the audience and puckered his lips, I had to giggle a little. Of course, I'm no cha-cha expert, so maybe this is exactly how it should be done.
Judges: Apparently, I'm wrong, since Nigel makes his approval clear by using variations of "cha cha cha" and talking about how hot Courtney was, though he agrees with me about the lip pursing. Nigel feels that this couple has the best chemistry of all and wonders how they'll do with different partners next week, assuming they make it through.
Mary continues with the cha-cha-wordplay after building up false tension by waiting a beat to declare the performance "magic" Mary mentions that Gev's performance had many technical flaws, but the couple's chemistry carries us past those flaws to enjoy the routine. After "whoo-whoo" prompting from Nigel, Mary declares Courtney and Gev to be on the "Hot Tamale Train".
Mia calls the performance "fabulosity at its best" and states that while they are definitely not the best dancers on the show, their performance definitely makes up for that.
Second Dance: Jazz
Choreographer: Mandy Moore
Song: "Standing There" - The Creatures
This was a very fun routine. I particularly enjoyed Gev's moment to show off his breakdancing skills by doing a handstand foot-clap thing. It's hard to describe, but trust me, it was awesome. During this routine, it struck me that the judges are right - these two have great chemistry.
Judges: Nigel thought that the routine was fun, but was short on substance, a bit like cotton candy.
Mary disagreed, saying that she loved the raw power and passion and fun of the routine
Mia agreed with Mary and complimented the pair on a great night, saying that they're one of her favorite couples.
Kherington and Twitch
First Dance: Crump
Choreographer: Lil C
Song: "2 Buck 4 TV" - Tha J-Squad
Kherington seems a bit nervous, though she insists that she has a little gangster in her and declares "I..I can get buck!" The routine starts off very strong, Twitch opening with some crazy gorilla moves and knee spins before bringing Kherington on stage. Kherrington shocks almost everyone and keeps up with Twitch step-for-step, hitting just as hard as he does. She does start to get noticeably tired towards the end of the routine, but the shockingly strong beginning makes up for this.
Judges: Nigel makes a strange look, like he's trying to pass a kidney stone or give birth, though I suspect he's just trying to get buck. Nigel is stunned at how strong Kherington was in this routine. He also notes that Kherington obviously got tired, but sets that aside and congratulates the pair on an excellent performance
Mary largely echos Nigel, adding that this was the first time she actually believed in this whole crump thing.
Mia throws out all sorts of crazy slang, apparently trying to sound gangsta and get buck, but in the end just agrees with Mary and Nigel.
Second Dance: Tango
Choreographer: Jean-Marc Genereux
Song: "Assassin's Tango" - Mr. & Mrs. Smith (Soundtrack)
This has never happened to me before - I actually didn't like a performance by Twitch and Kherington! The routine felt very by-the-numbers and forced and thus left me bored.
Judges: Nigel agreed with me, also noting a few technical missteps. The lack of passion and feeling (again, rare for these two), killed the routine.
Mary loved the beginning and end, but hated the in-between, echoing Nigel on his points.
Mia also felt that the routine lacked personality and committal.
Katee and Joshua
First Dance: Viennese Waltz
Choreographer: Jean-Marc Genereux
Song: "Iris" - The Goo Goo Dolls
Katee danced beautifully, floating around the stage. Katee and Joshua executed all of the lifts perfectly, but Joshua kept planting his feet and bouncing through the routine rather than floating through it
Judges: Nigel thought that I was a genius and should be a judge on the show, also noting the great lifts and bouncing movements of Joshua. Otherwise, he loved the routine.
Mary also loved the lifts, but the dancing could have been much better, though she felt that the greatness of the lifts made up for the technical errors.
Mia compared Joshua's movements to a football player trying to go through the steps, but loved Katee's dancing, saying she was born to dance.
Second Dance: Bollywood
Choreographer: Nakul Dec Mahajan
Song: "Dhoom Taana" - Om Shanti Om (Soundtrack)
Ummm...wow. This was like Broadway meets hip-hop meets...ninjas? I've watched this three times and I'm still not sure how I feel about it. It was definitely different.
Judges: Nigel loved the routine and is very excited to see Indian Cultural Dancing on the show. He also marvels at the fusion of different dance styles and wishes the world would come together through dance instead of what they're doing now. Nigel apparently hates the Olympics and the World Cup.
Mary also loved the routine and says that Katee and Joshua's heart and soul make them stars.
Mia forgoes dance commentary to give Katee wardrobe advice, but does come back on topic to call the routine fun and say how wonderful it is to see world dance on national television.
Best couple of the night: Will and Jessica
Favorite Dancers over all: Will, Jessica, Twitch, Kherrington, Katee, Joshua
Predicted to make the bottom 3: Comfort and Thayne
Make sure to check in tomorrow for the results recap!
Your Daily Blend of Entertainment News
Thank you for signing up to CinemaBlend. You will receive a verification email shortly.
There was a problem. Please refresh the page and try again.