TV Recap: So You Think You Can Dance Top Eight Perform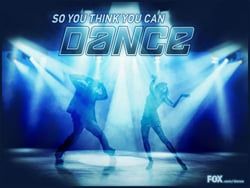 Tonight, we have the top four couples (the top eight performers) dancing for your votes. Once again, the guy and girl with the least votes goes home. Hopefully America won't have another lapse of craziness and Comfort and Mark are on their way out.
Yes, I'm biased - what of it?
Toni Basil, of "Hey Mickey you so fine you so fine you blow my mind!" fame, is our guest judge tonight.
To keep shaking things up, the guys will be drawing the names of their partners this week from a hat, so... NEW COUPLES!!
Okay, enough of my one sentence paragraphs - to the dancing!
First up, Will draws Courtney's name out of the hat. Their first dance is the Samba, choreographed by Jean Luc and performed to "Fell In Love With The DJ" by Che'Nelle. As much as I like these two dancers, I really didn't like this routine. It felt very frenetic and chaotic, less like dancing and more like running around and posing. This may just be my love for Courtney and Will (ok, more Will than Courtney) talking, but I think this was more the choreography than the performance.
Nigel thought the routine was great when they weren't worrying too much about technique. He also loved the chemistry. Mary agreed with Nigel, but also agreed with me that they seemed to just be running around a bit at times. Toni said that she had so much fun watching the routine that she forgot that she was judging and didn't take notes.
The next performance is a solo routine by Comfort. As always, her Hip-Hop is great and this performance even seems a bit different from her previous solo efforts. That said, I still wonder how in the heck she's still on the show instead of Kherrington. She must have some good dirt on you, America!
Twitch draws Katee and during the whole video montage before their first dance, we learn that they knew each-other before the show and are excited that they get to dance together this week. Speaking of that first dance, they'll be performing a Mia Michaels Contemporary routine to "Mercy" by Duffy. There is always a story to Mia's routines and this one apparently involves Katee trying to pick a fight with Twitch, who has no interest in dealing with her. Yeah, I've been there. Katee and Twitch are both great dancers, so this worked very well. There are some routines that I can't find a lot to say about because they didn't really effect me much. There are others that I just can't find the words to tell you how great they were. This was one of the second ones. I really would love to see Twitch win this whole thing. The judges all agree with me, of course, because I am a genius. Nigel calls this one of the most entertaining performances of the year. Mary says that Twitch and Katee are two of the best dancers they've ever had on the stage. Toni calls Mia the reigning queen of Contemporary dance and says that they are lucky to dance one of her routines. Toni also says that she didn't take any notes on this routine, either.
Will shook things up a bit for his solo, moving away from Contemporary to do a pseudo-James Brown impression to Brown's "Get Up Offa That Thing", complete with a wig and a pinstripe suit. This was fun to watch and a smart move by Will to showcase his personality. The judges give him a standing ovation.
Coincidentally, the two people that I think shouldn't be on the show anymore become partners and Mark and Comfort perform a Hip Hop routine by Napoleon and Tabitha to "Party People" by Fergie featuring Nelly for their first dance. I want them to bomb this routine. I want to hate it so bad that I started writing about how lame it was before they even started dancing. Unfortunately for me, they really nail this routine. As you would expect, Comfort hits much harder than Mark, who tends to flow more than hit, but he still did very well. Nigel notes that Comfort dances much better when she's choreographed rather than dancing a solo. I agree. Nigel also says how surprised he is at how well Mark did, though he wasn't as tight as Comfort. As much as I don't want to, I have to agree with that, too. Mary also more or less agrees and Toni talks about how well they stayed in the groove.
Katee is next up with her solo and unfortunately I can't think of much more to say than Katee moves very beautifully and with passion, which could be said for most of the dancers at this stage.
Really, I can never find much to say about solos. They jump around for fifteen seconds and, unless they do either extremely well or extremely bad, it almost seems the same to me.
Joshua is partnering up with Chelsie this week and their first dance is the Argentinian Tango choreographed by Dmitry from Season Two. This routine started out very slow and boring, but suddenly legs were flying all over the place and then Chelsea started flying all over the place and it was kinda aweseome. Nigel loved the choreography and level of technical difficulty and thought that both dancers nailed the routine. Mary agreed and said that Chelsie was much better than the last time she danced the Argentinian Tango. Toni liked that the routine felt less choreographed and more spontaneous and torrid.
Mark's solo was full of more craziness that could be brilliant and I'd never know. I think he was supposed to be a bug of some kind, but I'm really not sure. I blame you for Mark still being here, America!
For their second dance, Courtney and Will danced a "Slow Hip Hop" routine choreographed by Napoleon and Tabitha. The song is "Like You'll Never See Me Again" by Alicia Keys. This routine featured Will and Courtney doing their impressions of Patrick Swayze and Demi Moore from Ghost. Putting actual pictures of Will in Courtney's photo album was a nice touch. I really wanted to like this routine; I felt like I should like this routine, but I found it a bit... boring. Nigel liked the choreography and noted that this is the first season that he was emotionally affected by Hip-Hop routines and feels that the couple sold this routine on an emotional level. I agree with Nigel, but I was still bored. Mary agrees with Nigel and said that she always has very high expectations for these two and they have blown her expectations away. Toni rambles about Hip-Hop's gradual acceptance as an art form and what this show has done for the country's perception of dance. Somewhere in there, I'm reasonably sure that she said she liked the routine.
Chelsie's solo featured lots of leg work. Yes, Chelsie has amazing legs, but fifteen seconds of spins still don't do much for me. It's apparently Chelsie's birthday and she's nineteen, so Happy Birthday to her.
Katee and Twitch's second dance is a Broadway routine by Tyce Diorio featuring more of Twitch being chased by Katee, but she's not a crazy ex in this one - just trying to get her a man. The song is "Sweet Georgia Brown", but I didn't catch which show's cast performed. Normally, I just kinda stare blankly at the screen during Broadway routines. I don't hate them, but they always seem a bit too showy and...fake, I guess, for my tastes. But this routine was a lot of fun to watch. Twitch and Katee are just fun to watch no matter what they dance. Katee injects a lot of joy into her performances and Twitch .... Twitch is just GOD, people.
Nigel is continually impressed at Twitch's ability to rise to every challenge despite his lack of training and says that there is not a single one of Katie's routines that he hasn't enjoyed. He also says that he could easily see them both performing this routine on Broadway. Mary refuses to even try to fake out the couple and tells them that it was terrific and she's sure that they know how well they nailed it. Toni disagrees with Nigel's Broadway statement, saying that Twitch brings a realism to his performance that most Broadway performers lack and thinks that the couple did wonderfully.
I think I mentioned last week that I keep forgetting that Joshua is a Hip-Hop dancer because he is so good at everything. His solo this week reminded me once again that just because he's good at everything doesn't mean he's not phenomenal at Hip-Hop.
Courtney's solo left me feeling a lot like Katee's. Moves beautifully, dances with passion, but so do most of these dancers.
It is now time for Twitch's solo. I have told you all that Twitch is God, you would do well to remember this. Other dancers wish they could be Twitch when they grow up. Twitch is poetry in motion. Bow before the greatness of Twitch.
Seriously, y'all - the man can move.
Comfort and Mark's second dance is a Foxtrot by Jean-Marc. I despised this routine. I had my doubts about whether it was really as amateurish and robotic or if I just want these two gone so bad that I was imagining things. No, the judges told me, it was really that bad. Nigel says that it was no good, that the chemistry was lost when they began to think too hard about the routine and that it was too placed and amateurish. Mary agrees and Toni focuses on the turns as particularly poor.
For their second dance - and the last performance of the night - Joshua and Chelsie performed a Disco routine by Doriana Sanchez. I'll tell you now that I hate Disco; I've yet to see a Disco routine that I liked, and this one was no exception. I thought I saw Joshua take several missteps and he looks exhausted to me. To be fair, I'd be pretty damn tired if I had to do all of those lifts, too. This made me very sad, because I really don't want either of these two to go home.
Nigel liked the lifts and was amazed by Joshua's strength and Chelsie's courage to go through with the lifts. Mary agrees and thinks the routine was very good. She adds praise to Chelsie's ability to come out of the lifts and spins gracefully. Toni also thought the routine was amazing. Not a single judge mentioned the missteps, so maybe I just imagined them. Or maybe the judges were so dazzled by the lifts and spins that they didn't notice the missteps. Either way, hopefully these two will be safe.
Best Dancer: Twitch
Best Couple Performance: Twitch and Katee's Contemporary piece by Mia Michaels
Best Solo Performance: Will's James Brown impression
Most Likely To Go Home: Mark and Comfort (please god!)
Your Daily Blend of Entertainment News
Thank you for signing up to CinemaBlend. You will receive a verification email shortly.
There was a problem. Please refresh the page and try again.