TV Recap: So You Think You Can Dance Top Ten Perform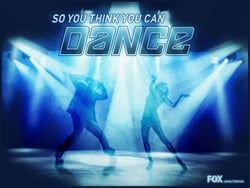 This week, we have the top five couples, the top ten dancers, in two couple routines and one solo routine each. Things are getting shaken up a bit this week. First, the old couples are being broken up and the girls will be drawing their new partners. Also, starting this week, the man and woman with the lowest votes will get sent home, the judges will no longer have a say. In a very real sense, they will be dancing for their lives each week.
It's immediately noticeable that there are only four guys and five girls on stage - my sweet, beautiful Jessica is missing! Cat, sporting this season's finest in gold lame wrapping paper apparel, calls out Jessica to explain what's going on. Jessica explains that the recurring pains in her side are actually two broken ribs and one fractured rib. The doctors say she can't dance for four weeks, though she will go on tour with the other top ten, so Comfort gets lucky and will be competing in her place.
Crumpmaster Lil C is our guest judge this week along with our regular judges Mary and Nigel.
Bring on the dancing!!
Courtney and Joshua
First Dance
Style: Hip-Hop
Choreographer:Dave Scott
Song: Skippin - Mario
I really liked this Bride of Frankenstein - inspired routine. Joshua kicked ass, as he tends to do, and Courtney kept up really well. It was a good mix of awesome dance moves and humor.
Judges:
Lil C: Great choreography and dancing. Joshua's dancing and character were awesome. Courtney's character was great, but her dancing was not as great as Joshua's and she needs to step up to his level.
Mary: Loved the choreography and chemistry. Joshua stole the show, but Courtney did a respectable job
Nigel Great Choreography. Josh killed it, Courtney did well. Both made the routine their own and added lots of character and camaraderie to the routine.
Second Dance
Style: Rumba
Choreographer: Jean Marc
Song: Hero - Enrique Iglesias
Joshua has on the tight pants again. The routine was sexy and made me want to take a break to make out with the fiance, but she thought the performance was rough and unsure in spots.
Judges:
Lil C: The performance took his breath away, now he needs his asthma pump. He loved the extensions and lines, but he didn't like that he could see the lifts coming. Overall, Courtney and Joshua nailed it.
Mary: This was a difficult routine. Joshua painted the floor and flowed nicely. They played off of each other well and went extra mile in subtle ways.
Nigel - Mostly agreed with the others. Thought that the routine was choreographed well to meet the dancer's strengths and loved the lifts.
Courtney Solo
I Want You to Need Me - Celine Dion
Courtney had lots of energy and sold the emotion well.
Joshua Solo
Jam - Michael Jackson
I had actually forgotten that Joshua's specialty was hip hop. He's an amazing hip hop dancer, but he's so good at everything that it's easy to forget what he specializes in.
Mark and Kherrington
First Dance
Style:Country Two-Step
Choreographers:Ronnie and Brandi
Song: Kick Back - Ty England
How does Brandi's belly not get in the way of those spins? What happens if the baby gets motion sickness? The routine had lots of fancy cowboy spins and was fun to watch. I thought Kherrington was far better than Mark, but the judges apparently disagreed.
Judges:
Lil C: Thought it was a fun routine but they attacked from the wrong direction (I'm still not sure what this means). They nailed alot of stunts, great character especially by Mark. Did not nail the routine, but it was fun to watch.
Mary: Thought it was a tough number. Their arms did not connect enough, mostly because Kherrington's arms were too loose, but Mark made up for it.
Nigel - Kherrington should let Mark lead more. Nigel liked that they did not give up, though it looked uncomfortable.
Second Dance
Style: Jazz
Choreographer: Tyce Diorio
Song: Canned Heat - Jamiroquai
I didn't really like this routine. It felt like I was watching a by-the-numbers routine at a dance recital or a "Jazzercise" class.
Judges:
Lil C: Good routine, it showed off dance skills, but it lacked some confidence
Mary: Nothing particularly wrong, but she felt nothing and it was not very exciting. Mark seemed somewhat lost with no character to perform.
Nigel: Felt by the numbers and checked off. No heart, no passion, nothing outstanding.
Mark Solo
Bohemian Rhapsody - Queen
Mark is so weird that this may have been brilliant and I'd have no idea. I didn't really get it.
Kherrington Solo
Breakin Dishes - Rihanna
Fun routine, though I wasn't blown away on a technical basis at all.
Twitch and Comfort
First Dance
Style: Smooth Waltz
Choreographer: Hunter Johnson
Song: Open Arms - Journey
Nice lifts. Twitch is awesome as always and Comfort appears rather graceful. In all, it's a pretty routine. The final butt-cupping lift was pretty awesome! The fiance disagrees with me about everything but the lift, as does everyone else.
Judges:
Lil C: Enjoyed the routine, but they didn't float enough. Most graceful he has ever seen Comfort
Mary: Didn't like it and thought it lacked power at this point, too choppy and clunky, the routine didn't work or come together.
Nigel: Not strong enough for a top ten dance, Comfort and Twitch did not work well together. Nigel did not buy them as a couple, though he agreed with me about the lift.
Second Dance
Style: Hip-Hop
Choreographer: Dave Scott
Song: Forever - Chris Brown
This was a great performance, which you would expect from two hip-hop dancers. Comfort and Twitch say they're having a competition to see who hits harder and Twitch wins without a doubt. Comfort was good, but Twitch just outclassed her. Very cool routine.
Judges:
Lil C: "That was kinda Buuuuck" Twitch was like spitting image of Dave, hitting hard. Best he's seen Comfort do a hip hop routine.
Mary: "I think it was Buck too!!" Thought they were terrific. Thought Comfort stepped up, bows down to Twitch.
Nigel: Loved that it didn't look choreographed, but more like they were dancing for the joy of it. Thought that was the best Comfort has been all season.
Comfort Solo
Need a Boss - Shareefa Feat Ludacris
Looks awesome, but also looks the same as her other solos.
Twitch Solo
I Question Mark - Wade Robinson
Twitch is god. Usher, Michael Jackson, and Justin Timberlake all want to be Twitch when they grow up.
Obviously, I loved his solo.
Katee and Will
First Dance
Style:Broadway
Choreographer: Tyce Diorio
Song: Sit Down You're Rockin The Boat - Guys and Dolls (Cast)
Not crazy about Broadway in general, but this is fun. Looks technically strong to me. WiIl Rips off his shirt and the girls go wild.
Lil C: Applauds Tyce's versatility, loves the choreography. Explosive in character, even more explosive in choreography. "It's Buck"
Mary: Loved the routine and thought the dancers were totally into character. Loves Katee's talent and technical skills. Loves Will's willingness to go all out and rip off his shirt.
Nigel: Thought that it was a big, terrific performance in a very contained area. Glad that Will is starting to let his charisma and personality show. First couple to show why they are in top ten.
Second Dance
Style: Part a Deux (I may be butchering the spelling on this)
Choreographers: Dwight Roden and Desmond Richardson
Song: Imagine - David Archuleta
This routine looks incredibly hard, but incredibly beautiful, like contemporary meets ballet. This is the routine of the night, despite the crappy singer that accompanied the routine.
Judges:
Lil C: Felt nervous critiquing it. Thought it great routine, danced with great conviction and passion, and could tell alot of work went into the routine.
Mary: Thought it was beautiful choreography performed by two of most beautiful dancers she's ever seen. Artistry in motion.
Nigel - Most wonderful dancing this season, possibly in history of show.
Will Solo
Dance With My Father - Luther Vandross
Technically amazing with beautiful lines. Very graceful, but still boring.
Katee Solo
This Woman's Work (MTV Unplugged) - Maxwell
Technically nice, pretty lines, left no real impression on me.
Gev and Chelsie
First Dance
Style:Contemporary
Choreographer - Sonya Tayeh
Song: These Arms of Mine - Otis Redding
My love of this song may have influenced me a bit, but I really love this routine. Unfortunately, I can never really explain what makes a contemporary routine stunning for me, but hopefully the judges can help me out.
Judges:
Lil C: Loved how this routine made him feel something. The dancers really committed to routine and it flowed very nicely.
Mary: This routine showed off their amazing chemistry. Mary believed their performances and raved over Gev's leaps across the stage.
Nigel: Definitely felt the chemistry. This routine told a story that he did not feel that Gev truly committed to, though Chelsie made him feel it.
Second Dance
Style: Jive
Choreographer: Jean Marc
Song: The House is Rockin - Brian Setzer
This routine was high energy. How do you even tell if Jive isn't good? As long as they keep moving and move fast, it looks good to me. It was fun to watch, I know that for sure
Judges:
Lil C: Chelsie completely outstepped Gev. Chelsie could make a mannequin look good. Gev needs to step up.
Mary: Terrific job. Great partnership, but Chelsie stole the show. It was like Dancing With The Stars.
Nigel: Good crowd-pleasing routine, lifted spirits, Chelsie was awesome, Gev not quite as good.
Chelsie Solo
Song: Pon de Replay - Rihanna
No lasting impression; I noticed the dress more than the dancing.
Gev Solo
This was a boring routine, the best moments, like the handstand, splits, and flips, looked like something from a gymnastics routine instead of a solo dance routine.
Favorite Couple: Will and Katee
Favorite Routine: Will and Katee's Part a Deux (or however it's spelled) Routine.
Prediction on who is going home: Mark (or Gev) and Comfort (or Chelsie)
...and that was it for this week! Make sure to check back tomorrow to find out who's going home and if my predictions are right!
Your Daily Blend of Entertainment News
Thank you for signing up to CinemaBlend. You will receive a verification email shortly.
There was a problem. Please refresh the page and try again.