Tom Sizemore To Play IA Detective in Hawaii Five-O Next Season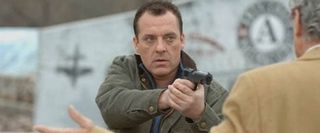 Heading into its second season, Hawaii Five-O still has a lot to prove before it becomes a network mainstay. It seems producers know this, because in the last few weeks the CBS show has been in the thick of casting, and it's not holding back any bells or whistles. Recently, Lost alum Terry O'Quinn was hired for a recurring role. Now, Tom Sizemore has been locked in for a multi-episode story arc.
The work -- and budget -- Hawaii Five-O is putting in shouldn't be too surprising; CBS runs like a well-oiled machine. But to have two well-known actors, especially Tom Sizemore, on board for recurring roles is the first sign that CBS is doing an awful lot to garner interest in the series. If you haven't watched, Season 2 of Hawaii Five-O might be a good time to get invested.
Sizemore's role will keep him invested…in the Five-O unit's internal affairs. According to EW, Sizemore will play an ex-homicide detective turned Hawaii IA police head. His role with the Five-O team will include a stringent investigation over the team's past behavior and antics. Hailing from Detroit, it's unlikely he'll be playing Mr. Nice Guy.
In the past, Sizemore's most famous roles have all been of the tough-as-nails type, so the Hawaii Five-O role should fit him like a glove. Most recently, he's been working overtime, finishing multiple projects each year, but mostly doing direct-to-DVD work. It might be high time to transition to television. Who knows, if the Hawaii Five-O role works out well, perhaps producers will find a way to keep him.