Top Chef All-Stars: Power Rankings Week 3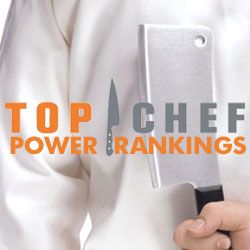 Another week, another shocker. As more and more top end talent continues to fall by the wayside, mediocre performers like Fabio and Carla have to be counting their lucking stars. Who the hell thought either of those two would outlast Jennifer or Dale L? Such is the nature of the culinary beast that Padma gives packing orders, not to the least talented chef but the one that fucked up worst on a single challenge. This past week it was two chefs that fucked up worst, giving the judges borderline inedible dishes. There was promise in there somewhere, it was just masked by fennel or popcorn, depending on who's snafu you're addressing.
As per usual, Richard Blais once again collected all 3 first place votes, with Angelo swapping places with Tiffani to round out the top three. Carla once again brings up the rear, though Fabio's continued horridness managed to cyphon one last place vote away. Congratulations should not be in order to either.
The Weekly Top Chef Power Rankings are a collaboration between Cinema Blend writers Mack Rawden and Jessica Grabert, as well as professional poker player and Top Chef enthusiast Brain Carraher. Each first place vote is worth 18 points; each last place vote is worth 5. The four eliminated contestants obviously make up the bottom wrung and therefore are not included. Without further ado, here's a look at this week's Top Chef Power Rankings….
The Favorites
#1) Richard Blais (54): Anchoring his Quickfire team to a come from behind victory, Richard was his typical solid self this week, impressing the judges and chef over at Marea during the Elimination. Had he been a bit more aggressive, he could have ended up in the top, but as is, his seafood couldn't quite top Tre's delicately-prepared steak swordfish. If this is a bad week for Richard, things should end up very well for the faux-hawked, culinary badass.
#2) Angelo Sosa (51): Richard's been kicking ass in the Quickfires, but Angelo has him beat in challenge wins. This week he hoped he'd made his best dish ever, but Dale's extraordinary egg dinner dish was a notch ahead. Nevertheless, Angelo ended high; if there is any worry that his head isn't in the game because of his continually furrowed brow and soft speech, have no fear, it seems Angelo is here…to stay.
#3) Tiffani Faison (48): Some challenges are good gauges of overall skills; others are simply evidence as to how well certain contestants can adapt. Tiffani Faison trying to cook frozen melons in the style of badass master of the bizarre Wylie Dufresne is not an indicative measure of her talent. If I thought it was, she certainly wouldn't still be here after coming within a whisker of being sent home. She survived, and barring another food 2.0 test, she should be back on top in no time.
#4) Marcel Vigneron (44): There's something to be said for Marcel's hyper-competitive streak. While many of the other contestants laugh off Quickfire blunders, the intense season 2 runner-up seethes with disappointment in himself and all those around him. Marcel, unlike many of the other chefs here, feeds off emotion. He uses it to push further outside the box. It's only a matter of time before one of those crazy chances works out perfectly.
The Contenders
#5) Dale Talde (40): Dale finally took the bull by its horns during week 3, with his first win that wasn't a Quickfire team challenge. It's sort of fitting that Dale won; while Angelo and Antonia were emulating cuisine they were familiar with and Tre just cooked a solid hunk of swordfish, Dale had to perform some Wylie Dufresne-esque, molecular gastronomy nonsense. Cooking so supremely outside-the-box is absolutely a risk, but if it's gaining Dale wins rather than middle of the pack bullshit, weird ideas might be Dale's ticket to moving forward.
#6) Spike Mendelsohn (39): Was there ever really a doubt the team of Spike, Richard, Tre and Stephen would win the Quickfire? Too bad those four had to end up competing against each other during the Elimination challenge. Throughout the first three weeks, Spike has shown consistency and even a flare for the unexpected. It's hard to think him better than anyone listed higher, but after being largely mediocre on his season just a few years ago, it's difficult not to be impressed with how far he's come.
#7) Tre Wilcox (37): We were worried about you, friend. Luckily you came through in week 3, with some nicely cooked swordfish steaks. The high praise may be just enough to motivate you to work toward some wins, but let me hasten: As Kevin from season 6 learned, cooking a nice hunk of meat or fish is not enough to gain you those silky words from Padma. Tre, right now, you are not Top Chef, although you may yet ride out the storm. Still a contender, not a favorite.
The Dark Horses
Casey Thompson (31): Casey would be great as a mulleted McJudger; she has now skillfully mocked dishes that sent both Jen and Dale L home. In her spare time, she also cooked a nice scalibut (halibut in the form of a scallop) this week. Her execution was not enough to end her in the top however, and she landed in the middle. Casey can be a solid competitor when she's playing hard, but right now even the boring Antonia is beating her in terms of highs. We'll see if she has time in her busy looking-hot-and- naming-names schedule to cook some great food.
Tiffany Derry (30): It seems as if Tiffany's a little down on herself. She hasn't been performing overly well, and she hasn't found her niche in this year's cast. It's good to be frustrated if challenges aren't panning out as expected, as long as the frustration is used as fuel and not an encumbrance. The challenges this season have been wackier than normal, and this past week Tiffany had to make Asian food, which is a far cry from her trademark. If there are a few challenges where Tiffany can play within her wheelhouse, she might get some confidence to go more out on a limb and gain some wins.
Mike Isabella (29): Mike Isabella once again remains dangerously close to the top on Brain's list. I'm still not buying it, but the more weeks he does better than expected, the more I'm sympathetic to his cause. He still clearly views himself as an underdog, but rather than simply going through the motions, he attacks each challenge like the underdog with something to prove. There's a lot worse potential philosophies to have.
Antonia Lofaso (23): Antonia worked her way up the Power Rankings a bit this week with an impressive finish in the high group. I seriously doubt her dish was ever considered a possible winner next to Angelo and Dale's, but there's certainly no shame in finishing fourth at this stage. As a result, she's moved out of the Happy-To-Be-Here's and into the Dark Horses. Victory.
Jamie Lauren (21): Why is Jamie so low when she wasn't even in the bottom four this week? First, in week 2, Jamie didn't perform in the challenge because she needed two itty bitty stitches. In week 3, Jamie made a meatless soup and salad for her David Burke-like New American dish. Not only is Jamie not taking chances, she really isn't trying. She's still a better chef than several of the people left in the game, but she seems to have given up playing. We'll see whether she can last making sub-par dishes, and hope she sticks her head out of the water at some point and starts swimming again.
The Happy To Be Heres
Fabio Viviani (20): Outside of maybe Jamie, there is no one left in the competition with worse body language than Fabio. He seems to be expecting to fail, which is odd because the likeable, garrulous chef is normally the picture of poise and confidence. If he doesn't get an Italian challenge in his wheelhouse soon, it'll be a miracle to see him survive a few more weeks later alone make a serious run at the title.
Carla Hall (16): Carla and Mike have been hiding out since the beginning of Season 8. Neither have won a Quickfire, and neither have been on the top or the bottom of a challenge since All Stars began. This is a great strategy, if they are looking to live to die another day, but it's not a great strategy for winning. No chef has ever been given the title of Top who hasn't been a challenge winner. Many of the chefs who have gone home so far have done so because they failed to execute grandiose dishes. Carla and Mike have survived because they are yet to have stepped outside the box, unless you count being the "hooty-hoo" lady as stepping outside the box.
Here's a look at how each of the three ballots shook out:
Swipe to scroll horizontally
Mack:
Richard (18)
Angelo (17)
Tiffani (16)
Marcel (15)
Tre (14)
Dale T (13)
Spike (12)
Casey (11)
Tiffany (10)
Antonia (9)
Jamie (8)
Mike (7)
Fabio (6)
Carla (5)
Brain:
1. Richard (18)
Angelo (17)
Tiffani (16)
Spike (15)
5. Marcel (14)
Mike (13)
Dale (12)
Tre (11)
Tiffany (10)
10. Casey (9)
Jamie (8)
Fabio (7)
Antonia(6)
Carla (5)
Jessica:
Richard (18)
Angelo (17)
Tiffani (16)
Marcel (15)
Dale T (14)
Tre (13)
Spike (12)
Casey (11)
Tiffany (10)
Mike (9)
Antonia (8)
Fabio (7)
Carla (6)
Jamie (5)
Your Daily Blend of Entertainment News