Top Chef Power Rankings: Recreating Classic Food Perfectly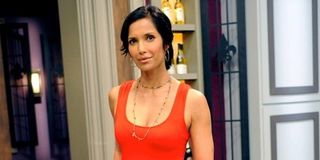 This week, Top Chef started with a bang. Jumping right in, Padma announced that the quickfire would be an elimination challenge. The tension in the room was palpable as contestants busted their bottoms to finish an excellent dish in a timely manner. Aaron unfortunately overseasoned his kale, causing it to be salty and "inedible." It was no surprise that Padma sent him packing, but it is a bummer since he did well last week and has an impressive pedigree.
After the quickfire, Commander's Palace head chef Tory McPhail invited the contestants to feast at his legendary restaurant. Most of the competitors were blown away at the offer, and everyone involved seem to love the special dinner. Following its completion, McPhail informed the competitors that they would be divided into groups and asked to recreate one of the items they ate.
Many of the competitors were none too pleased with the challenge, but nonetheless, they were all forced to plow in, though with far different strategies. Some of the teams worked on different components of the dishes together. Others didn't even talk about their thought processes. Amusingly, the only course that the judges were at least reasonably happy with from top to bottom was dessert. Carrie, Stephanie, Justin and Sara all had at least a few elements on their plates that worked, and Stephanie and Justin grabbed top three slots, alongside Nina who cooked some spot-on shrimp. After much deliberation, Justin was given the victory, which he was very pleased about because of his respect for Commander's Palace.
On the bottom of the equation, there were quite a few dishes the judges hated, specifically from the chefs who made blackened fish. For some reason, the competitors decided to split up their prep work tasks and all share the results, which led Carlos, Louis and Bret to all have extremely underseasoned and bland fish. All three wound up in the bottom and were given a pretty good tongue lashing for that mistake and the various issues each had with the actual cooking. Honestly, any of the three could have gone home, but probably because of his less than impressive history, Bret was asked to pack his knives and go.
The Top Chef Power Rankings are an ordered compilation of weekly lists put together by TV Blend writers Jessica Rawden and Mack Rawden. Each week after viewing the episode, they each rank the competitors in order. Nineteen points are given for a first place vote, and this week, five were given for a last place vote. Four competitors have already been eliminated; therefore, those people automatically occupy the bottom slots. Here is how this week's voting panned out, complete with analysis on how the contestants might fare moving forward.
The Favorites
#1) Carrie Mashaney (37): Carrie had a pretty non-descript episode. She was in the middle of the pack during the quickfire, and while the judges seemed to like her dessert during the elimination challenge, she didn't find herself among the winners' pile. For most competitors, that would still be considered a pretty successful week, but considering her track record, it must have been a bit underwhelming.
#2) Nina Compton (36): Nina may not have ended up with the win this week, but she continued to be impressive, putting together Top 3 dishes during the quickfire and the final challenge. She's got one win under her belt and has consistently been in the top three through the tenure of the competition. If she keeps cooking this way, she'll be in this competition for a long time.
#3)Shirley Chung (35): Shirley won this week's quickfire with her wildly inventive egg on top dish, which shouldn't surprise anyone considering she's been knocking at the door with high finishes since the beginning of the competition. Unfortunately for her, her elimination dish wasn't quite so spectacular.
#4) Sara Johannes (30): Sara actually didn't have a great challenge this week. She had trouble mimicking the popular dish she was given and the judges noted that she missed the white chocolate in the dish completely. Still, it was a middling mistake and she didn't land in the bottom three for it. Otherwise, she's been extremely competent and we'll just keep on hoping this week is a blip.
The Contenders
#5) Brian Huskey (29): You can tell Brian is a talented guy. He's also got some good ideas going on, and the judges frequently heap praise on him for individual facets of his dish. He's been unable, however, to put together one brilliant effort that proves just how great he can be. Look for that to happen sooner rather than later.
#6) Justin Devillier (29): This week, the competition was pretty personal for Justin, who really wanted to prove he had the chops to recreate New Orleans food. The man's been a decent competitor thus far, but the judges loved his take on beignets and it ended up landing him the win. We're really happy the man stepped up his game this week, and hopefully that win will be enough to buoy him forward in the weeks to come.
#7) Janine Booth (27): Janine was pretty convinced she was screwed during the quickfire. Her pork wasn't cooking fast enough, and she fully expected Dana from Food & Wine to give her the big ugly axe. Fortunately for her, it miraculously got done just in time and she cruised along. For her sake, however, I hope she improves enough in the coming weeks to start competing for victories rather than tickets to next week.
#8) Stephanie Cmar (25): Stephanie has spent a lot of time discussing her confidence issues onscreen. However, this week she showed up in a pretty big way, landing in the Top 3 during the quickfire for her bacon dish and the final three for her take on beignets. If she keeps cooking with as much fervor as she showed this week, she should be a part of this competition for a long time.
#9) Carlos Gaytan (23): Carlos has made more than his share of mistakes so far in this competition. His blackened fish was underseasoned and way too blackened, and truth be told, he almost went home for his mistake. That being said, all of the issues he's had so far haven't been related to technique or conception. He clearly knows how to cook. His Michelin star proves it. He just needs to relax and start understanding the rhythms of the competition.
#10) Michael Sichel (20): Michael has landed in the middle a lot, but this week he didn't make a dish that did particularly well. His shrimp was described as overcooked, but arguably worse, he was kind of a jerk in the kitchen after Nina accidentally used a few of his plates. His only saving grace was that his presentation was good, but he'll need to make food that tastes better moving forward if he wants to stick around.
The Dark Horses
#11) Nicholas Elmi (16): Nicholas hasn't left the competition yet like his buddy from Philly, Jason, but he's one of several chefs who needs to step it up in a hurry. He's consistently been maligned for the food he's put forward, and while he seems like a talented guy, at some point you need to produce because at this point, the judges have no reason to give him the benefit of the doubt.
#12) Travis Masar (16): When a judge says a dish has "missed the mark," you know it can't be a good sign, especially when the judges don't even elaborate on what the exact problem is. The critique wasn't enough to send Travis home this week, but if he keeps inching below mediocrity, he'll really need to step up his game if he wants to stick around.
#13) Benedetto Bartolotta (15): Benedetto actually had a good week. The judges were pleased with how his sauce came out, and he was in the middle of the pack on the quickfire. That's definitely the best we've seen from this chef, but because of how bad he was early in the competition, he'll need to bust out in a big way before his rating improves.
#14) Louis Maldonado (13): After landing himself in the middle of these power rankings for most of the competition, Louis had a bad week. During the quickfire, he literally brought no smoke into the dish and was almost sent home for it and then during the final challenge, he was asked to recreate a trout dish that was described as overcooked and underseasoned. He ended up in the bottom 3 for that dish, as well. He narrowly escaped going home this week, and next week he'll need to do much better.
#15) Patricia Vega (10): Patty is basically in the same camp as Benedetto. She was completely fine this week. She even got a nice little comment about how tasty (yet simple) her quickfire dish was, but given the complete nightmare her first two weeks were, there's no bumping her out of this basement rating until she actually proves she can compete.
Here's a look at how each of the two ballots shook out:
Swipe to scroll horizontally
Mack:
Carrie Mashaney (19)
Shirley Chung (18)
Nina Compton (17)
Sara Johannes (16)
Janine Booth (15)
Brian Huskey (14)
Justin Devillier (13)
Stephanie CMar (12)
Carlos Gaytan (11)
Michael Sichel (10)
Nicholas Elmi (9)
Travis Masar (8)
Louis Maldonado (7)
Benedetto Bartolotta (6)
Patricia Vega (5)
Jessica:
Nina Compton (19)
Carrie Mashaney (18)
Shirley Chung (17)
Justin Devillier (16)
Brian Huskey (15)
Sara Johannes (14)
Stephanie Cmar (13)
Carlos Gaytan (12)
Janine Booth (12)
Michael Sichel (10)
Benedetto Bartolotta (9)
Travis Masar (8)
Nicholas Elmi (7)
Louis Maldonado (6)
Patricia Vega (5)
Photo Credit @ Bravo
Your Daily Blend of Entertainment News
Reality TV fan with a pinch of Disney fairy dust thrown in. Theme park junkie. If you've created a rom-com I've probably watched it.
Your Daily Blend of Entertainment News
Thank you for signing up to CinemaBlend. You will receive a verification email shortly.
There was a problem. Please refresh the page and try again.