Up All Night Preview: Maya Rudolph Kicks It Old School In Ava's Music Video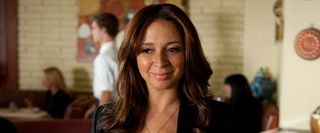 Look out Robin Sparkles, there's a new fake pop-star in town and her name is Ava. If you've been watching NBC's hilarious new comedy Up All Night, then you know that Maya Rudolph plays Ava, Christina Applegate's character's friend and talk show host boss. This video shows Ava's earlier claim to fame.
In anticipation of tomorrow night's episode of Up All Night, NBC released this clip, which features Rudolph's character Ava in a music video, which was likely done years before she went on to become her own version of Oprah. Keep watching and growing!
The video above reminds me of Rudolph as featured in the classic SNL digital short "D--k in a Box."
In Up All Night's series premiere, we got to see the opening credits for Ava, which included a look at Rudolph during what might have been the hip-hop phase of her career. At least, that's what I'm guessing based on the shot of her that looked like it was inspired by TLC's "Ain't 2 Proud 2 Beg" video. I'd love to see more of whatever they had her doing in that costume.
Speaking of costumes, based on these photos, which are also from tomorrow night's episode, we're either in for some flashbacks or Reagan and Ava are attending a late '80's/early '90's party.
For more Up All Night goodness, check out Reagan and Chris' facebook pages. Chris really does like soup.
Up All Night airs Wednesdays at 8:00 p.m. ET on NBC.
Your Daily Blend of Entertainment News
Thank you for signing up to CinemaBlend. You will receive a verification email shortly.
There was a problem. Please refresh the page and try again.