Walking Dead Creator Robert Kirkman Sued By Former Partner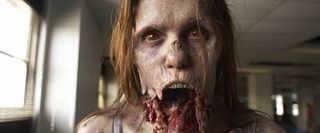 Welcome back to another exciting episode of Wheel of Litigation! It simply wouldn't be Hollywood if somebody wasn't suing somebody else on a weekly basis. This week the contestants are Robert Kirkman -- creator of the apocalyptic zombie comic series The Walking Dead, and the AMC series based on it -- and his former partner, Michael Anthony Moore. With The Walking Dead set to return for its second season winter premiere tomorrow night, the timing probably isn't coincidental that Moore filed suit against Kirkman this past Thursday.
Moore and Kirkman were childhood friends who had worked on several comics together, including self-publishing a series called Battle Pope together in 2000. On the Walking Dead front, Moore illustrated the first six issues of the zombie series, and drew the covers for 18 other issues. Now Moore has filed suit claiming that Kirkman tricked him into surrendering his rights to The Walking Dead and other projects in exchange for payments he has never received.
The Wrap has a detailed rundown of the case, which stems from a 2005 contract between Kirkman and Moore. Moore alleges that, after signing the contract, he hasn't been paid his due and hasn't been allowed to examine Kirkman's relevant bookkeeping. In a statement released Friday, Kirkman called the claims "ridiculous" and said that Moore regularly receives payments for both his comic illustrations and his royalties for the AMC series. The statement continues:
The Walking Dead returns to AMC tomorrow night, February 12th, at 9/8c.
Your Daily Blend of Entertainment News
Your Daily Blend of Entertainment News
Thank you for signing up to CinemaBlend. You will receive a verification email shortly.
There was a problem. Please refresh the page and try again.