The Walking Dead Season 5 Teaser Clip Is Full Of Zombies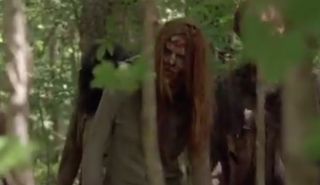 Spoilers if you're not caught up on The Walking Dead through Season 4!
Here's the promised preview of The Walking Dead Season 5. When Season 4 left off, most of the main characters were cornered inside a railroad car at Terminus. Excluded from that group was Beth, who was last seen being hauled off in the trunk of a car, while Carol, Tyreese and Judith were still making their way toward Terminus. It's the latter trio that's featured in the new clip, as we see them trying to navigate around or away from a very large pack of walkers. Are they setting some kind of trap? Seems like it, as they appear to be waiting for something to happen.
The clip doesn't give a whole lot away, other than that Carol, Tyreese and Judith are all still together and still on the road. And the sight of the railroad track indicates that they're still en route to Terminus. Hopefully they think twice about actually entering the supposed safe-haven.
AMC rewarded Walking Dead fans with a clip and a special episode of Chris Hardwick's Walking Dead talk show Talking Dead as the cherry on top of a weekend-long July 4 Walking Dead marathon. If you have the talk show automatically set to record on your DVR, you may have the Talking Dead episode waiting for you right now. If not, maybe AMC will get the episode up on their site. For those who missed it, it featured The Walking Dead showrunner Scott Gimple, along with actor/writer/host Aisha Tyler.
Here's a highlight clip, which has Hardwick, Tyler and Gimple discussing the controversial topic of zombie nudity...
Aisha Tyler asks Gimple about the "three questions" test...
And here's a bonus scene from the Talking Dead special. As Aisha Tyler puts it, "We're on the internet now, fuckers!" So expect a bit of NSFW language in this video!...
The helicopter in Season 1 and the helicopter on the top of the Big Spot (in Season 4) are not the same, in case you were wondering or had devised some elaborate theory about it.
Find everything we know about Season 5 so far here.
Your Daily Blend of Entertainment News
Thank you for signing up to CinemaBlend. You will receive a verification email shortly.
There was a problem. Please refresh the page and try again.